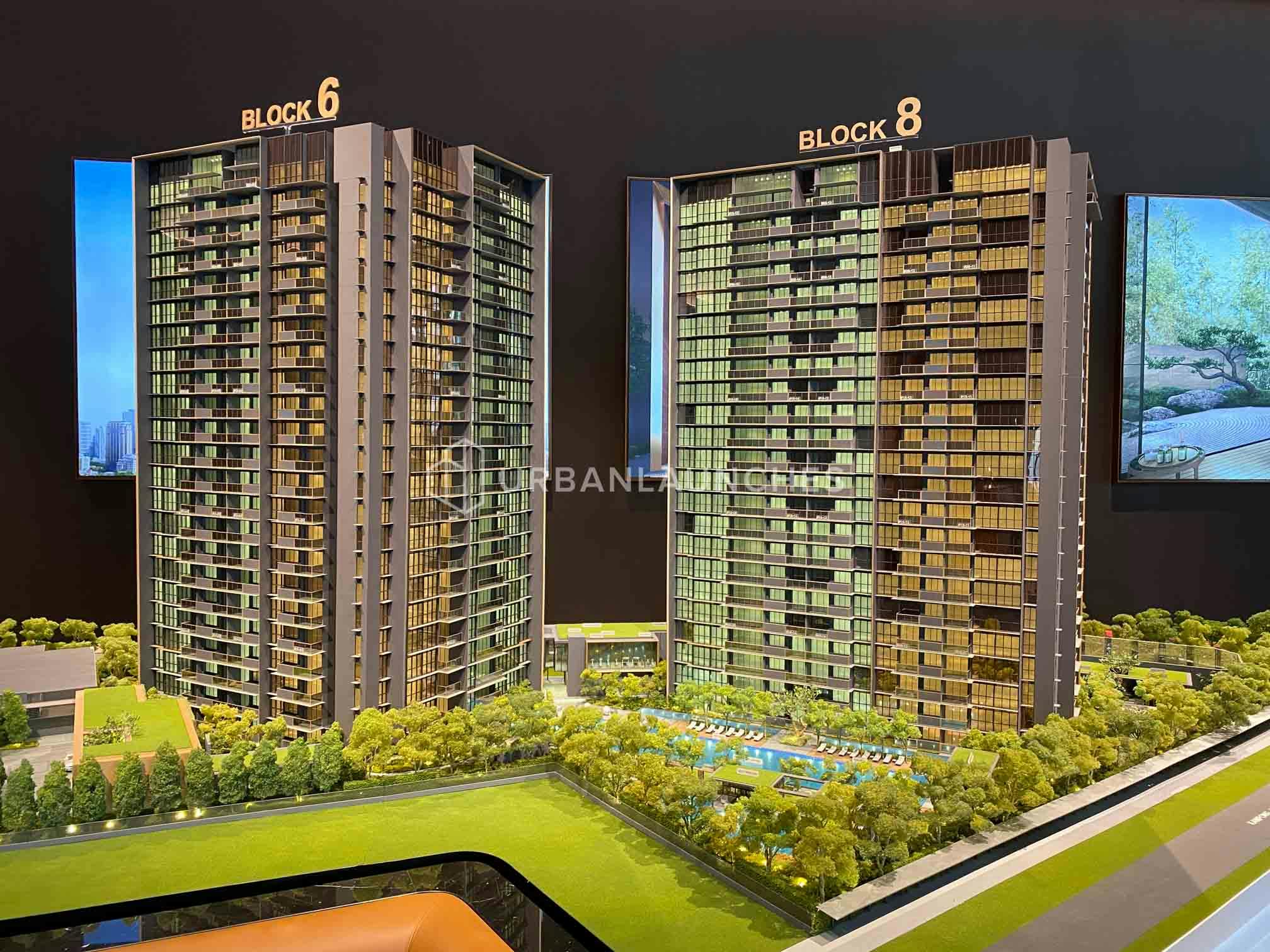 Kopar At Newton Review
The Makings Of An Icon
Standing tall in the heart of District 9, Kopar At Newton blends the grandeur of a luxury condominium with high-end amenities like 24/7 concierge and a stunning Clubhouse. Its hyper-connectivity to prestigious schools, Novena's medical hub and Singapore's iconic Orchard Road shopping belt makes it a perfect choice for affluent families who want the very best. 
Pros
Low entry prices for District 9
Prime location in Newton
Unblocked views from any angle
No overcrowding with only 378 units
Cons
Premium price compared to nearby projects
| | |
| --- | --- |
| Developer Name | CEL Development Pte. Ltd  |
| Project | Kopar At Newton  |
| Address | 150 Kampung Java Road |
| Site Area | 125,340 sqft  |
| Tenure | 99-years leasehold |
| Expected TOP | 2023 |
| Location | District 9 - Orchard/River Valley |
| Total Units | 378 |
While copper is rarely associated with luxury, District 9's latest luxurious development is hoping to challenge that notion. 
Kopar At Newton is the latest 99-years leasehold luxury condo development in District 9 set to TOP in 2023. After successfully selling 77 units at launch, Kopar At Newton is a clear indication that demand for luxury condominiums in the coveted District 9 is still high. 
Once ready, its striking, copper-tinged exterior will be hard to miss, especially since it is located just minutes away from Newton MRT and opposite Newton Food Centre!
Sprawling across a land size of 125,340 sqft, Kopar At Newton offers a total of 378 units, with units ranging from 1 to 5-bedders and penthouses. There are no villas or strata homes here - Kopar At Newton is all about scaling new heights when it comes to luxury living.
With all units split across two 23-storey blocks, it is obvious what the developers CEL Developments had in mind with this project: exclusivity, and unobstructed views. Excitingly Kopar At Newton also offers posh amenities that take up 70% of the development site. This is great news for home buyers who prioritise having a space to unwind or entertain. 
Excited to learn more about Kopar At Newton? Read on for our full analysis!
Development Analysis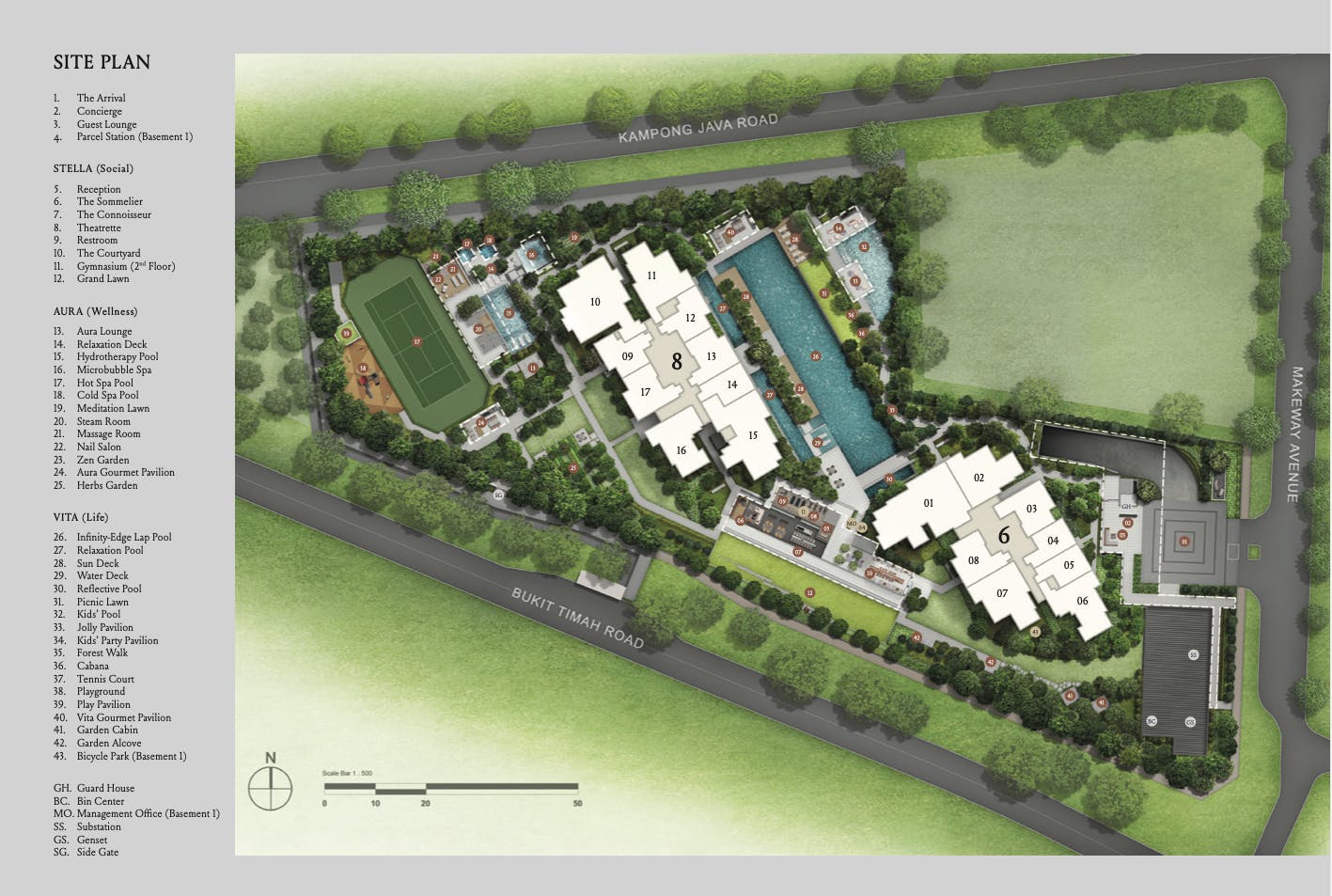 Designed to offer the "experience of staying at a high end hotel", the opulence of this condo starts from its grand entrance. The impressive arrival area also even comes with a concierge service to help you lug your groceries, give your guests directions, or simply keep you company as you wait for your private transport's arrival.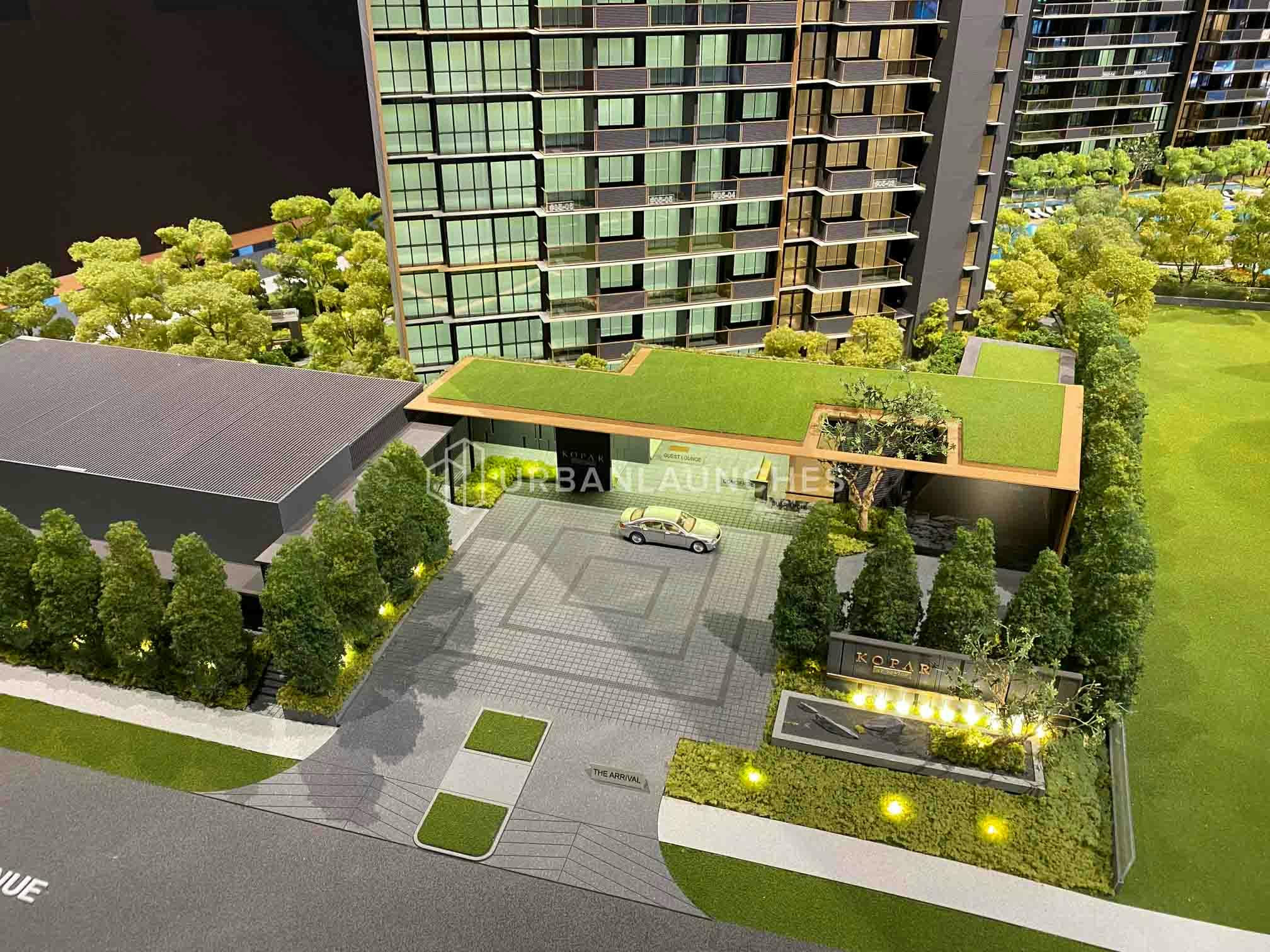 Kopar At Newton offers a lifestyle sanctuary that puts a spotlight on holistic wellness with a touch of opulence. The project's facilities are split into three main groups - Stella, Aura, Vita. 
Stella amplifies the social experience in Kopar At Newton, comprising a stunning Clubhouse that overlooks the Grand Lawn - a feature that is perfect for families looking to entertain and keep their kids occupied at the same time. 
Embellished by a grand teardrop chandelier and artfully designed interior, this is definitely a step up from basic function rooms in other developments!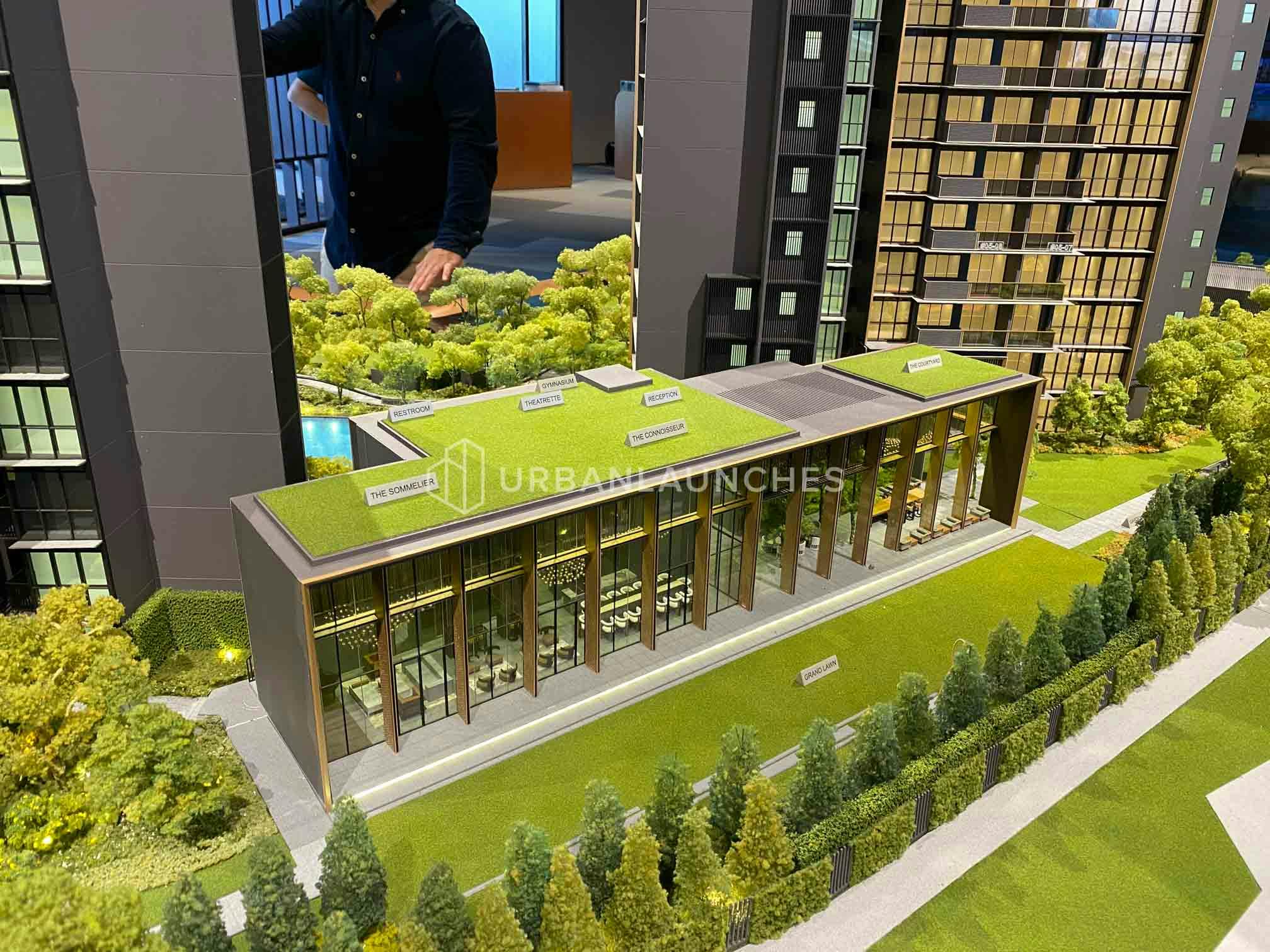 The facilities grouped under Aura are dedicated to personal wellness. Boasting amenities like a hot & cold spa, Microbubble spa, Nail Salon and Hydrotherapy pool, we think this is the perfect way to unwind after a long hard week. 
We especially like how these facilities are located away from the guesthouse, so you can truly bask in the experience without any noise interruptions.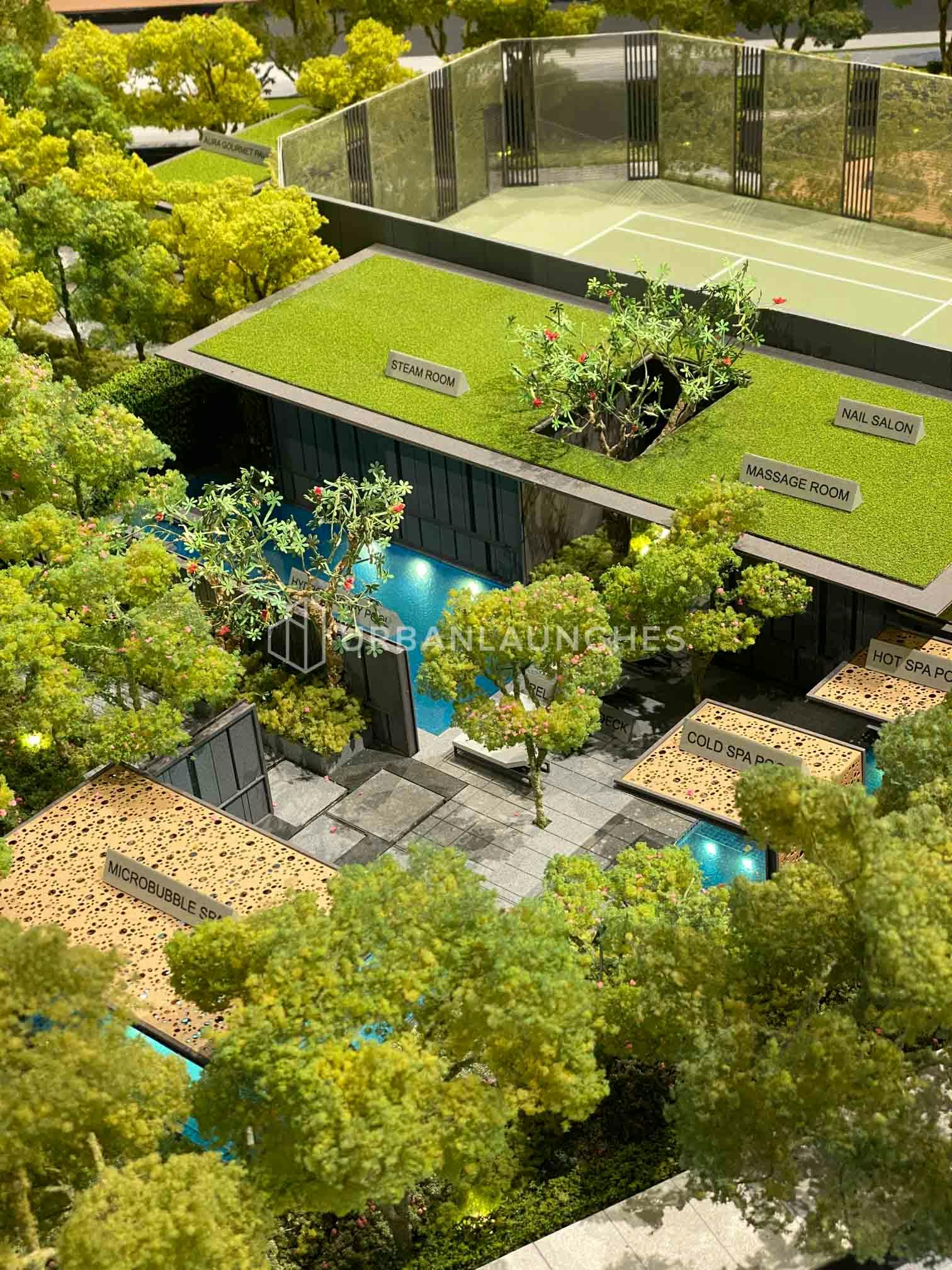 Lastly, Vita is dedicated to complement your active lifestyle, with a tennis court, forest walk and multiple Pavilions that allow you to spend quality time with your family and while breaking a sweat!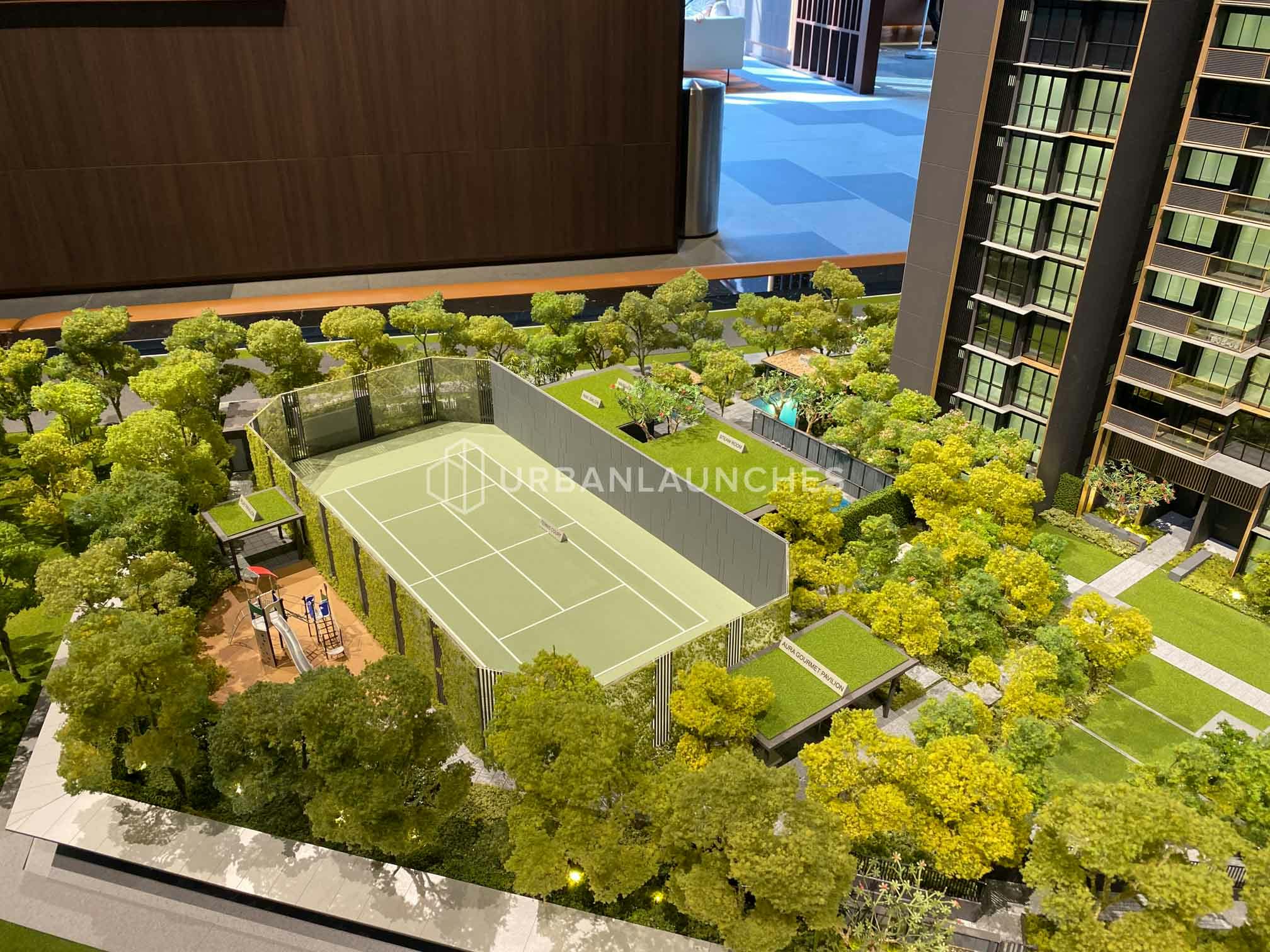 Another grand feature worth pointing out is the grand 50m lap pool, which is again sealed off by lush greenery for privacy. Gym junkies will appreciate that the gym is located on the second floor overlooking the pool!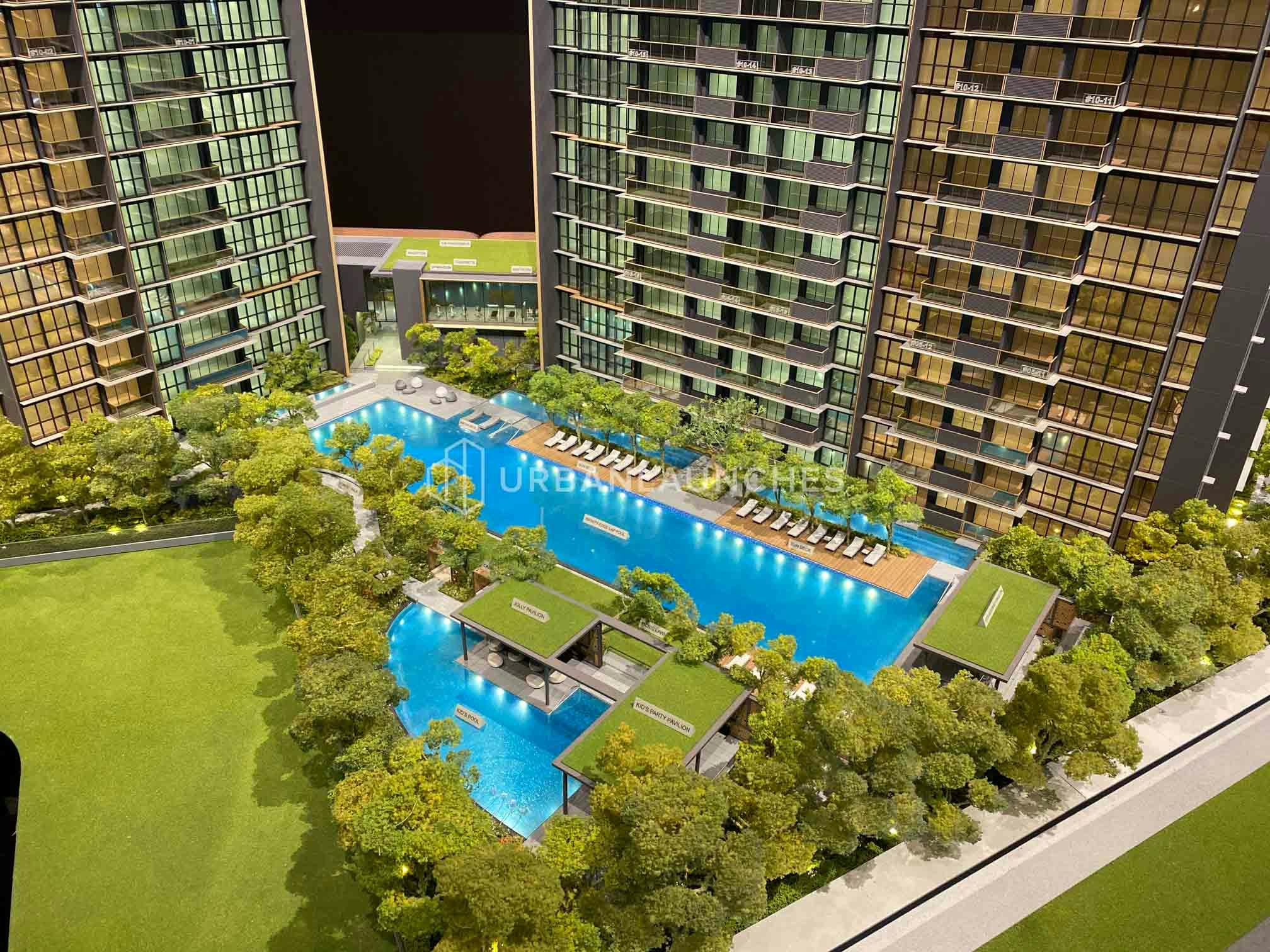 As Kopar At Newton is located between Kampong Java Road, Bukit Timah Road and Makeway Avenue, road noise might be a cause of concern, which is why the developers have ensured that residential units are placed at least 30 metres away from the road to minimise any noise. 
As with any developments sandwiched in between multiple buildings in the city, the view from your unit is key. While the views are generally unblocked across all directions, some offer better city views than others.
Kopar At Newton Unit & Floorplan Review
Out of the 378 units offered in Kopar At Newton, only 21 units of 5-bedders are offered, and the same exclusivity goes towards the 8 penthouses. It is not surprising to see that 1 and 2-bedders make up the majority of the project's offering, as Kopar At Newton's prime location can potentially command higher rental yield in the long run for investors. 
The units in Kopar At Newton are of "standard" size for a new launch, however it is worth noting that 4-bedders and above come with private lifts and Junior Suites (a plus if you are living with your older folks or extended family).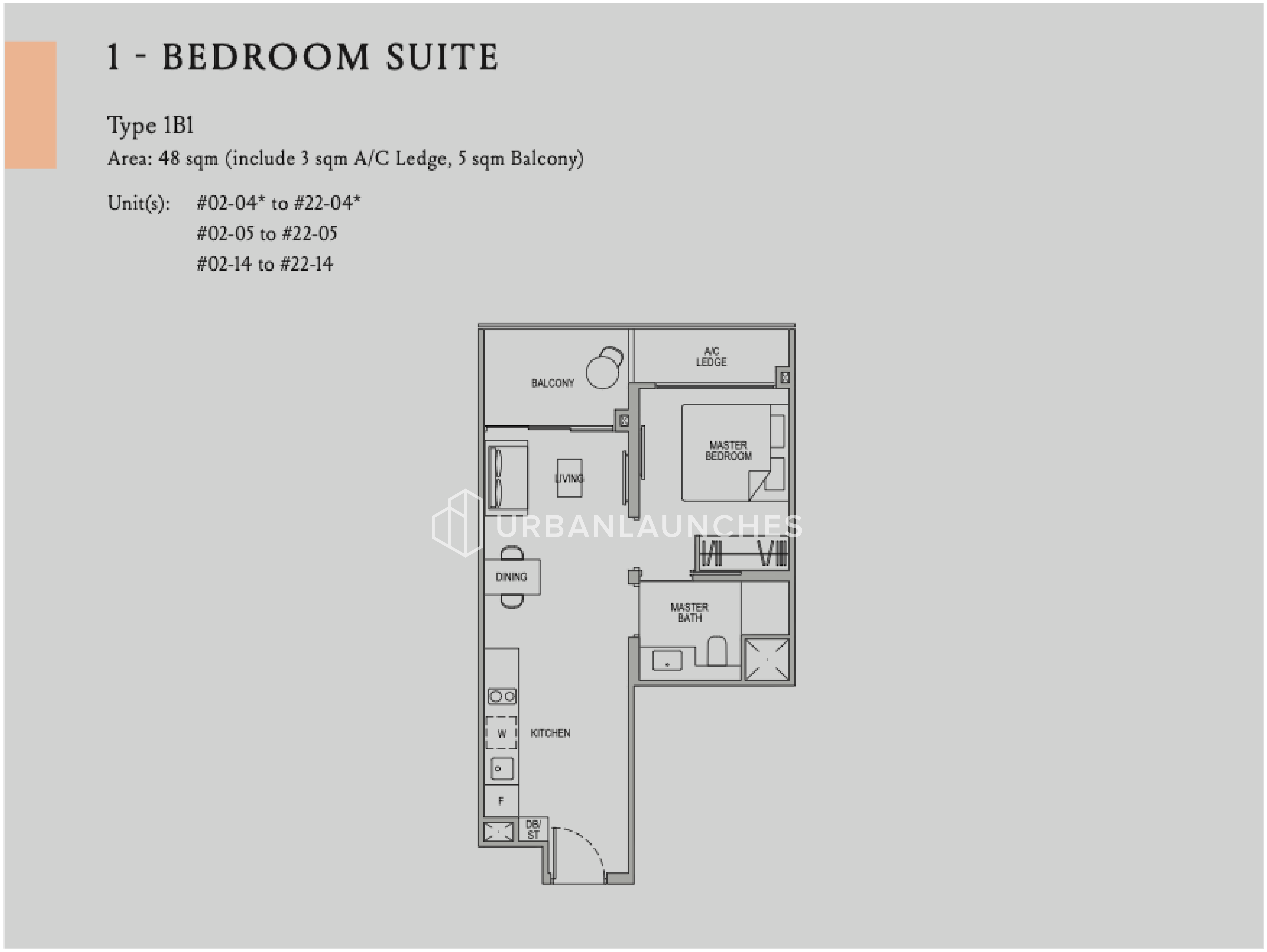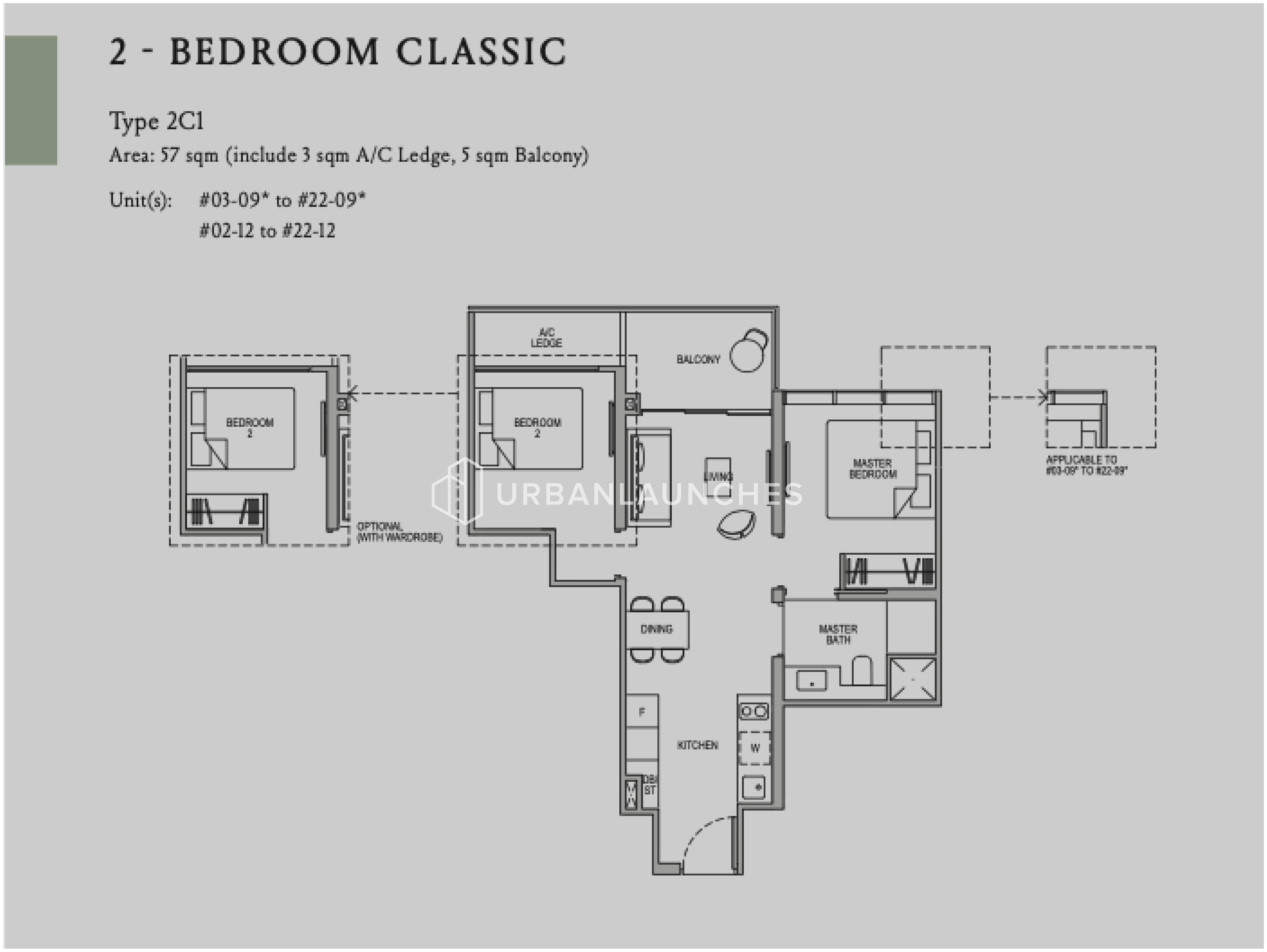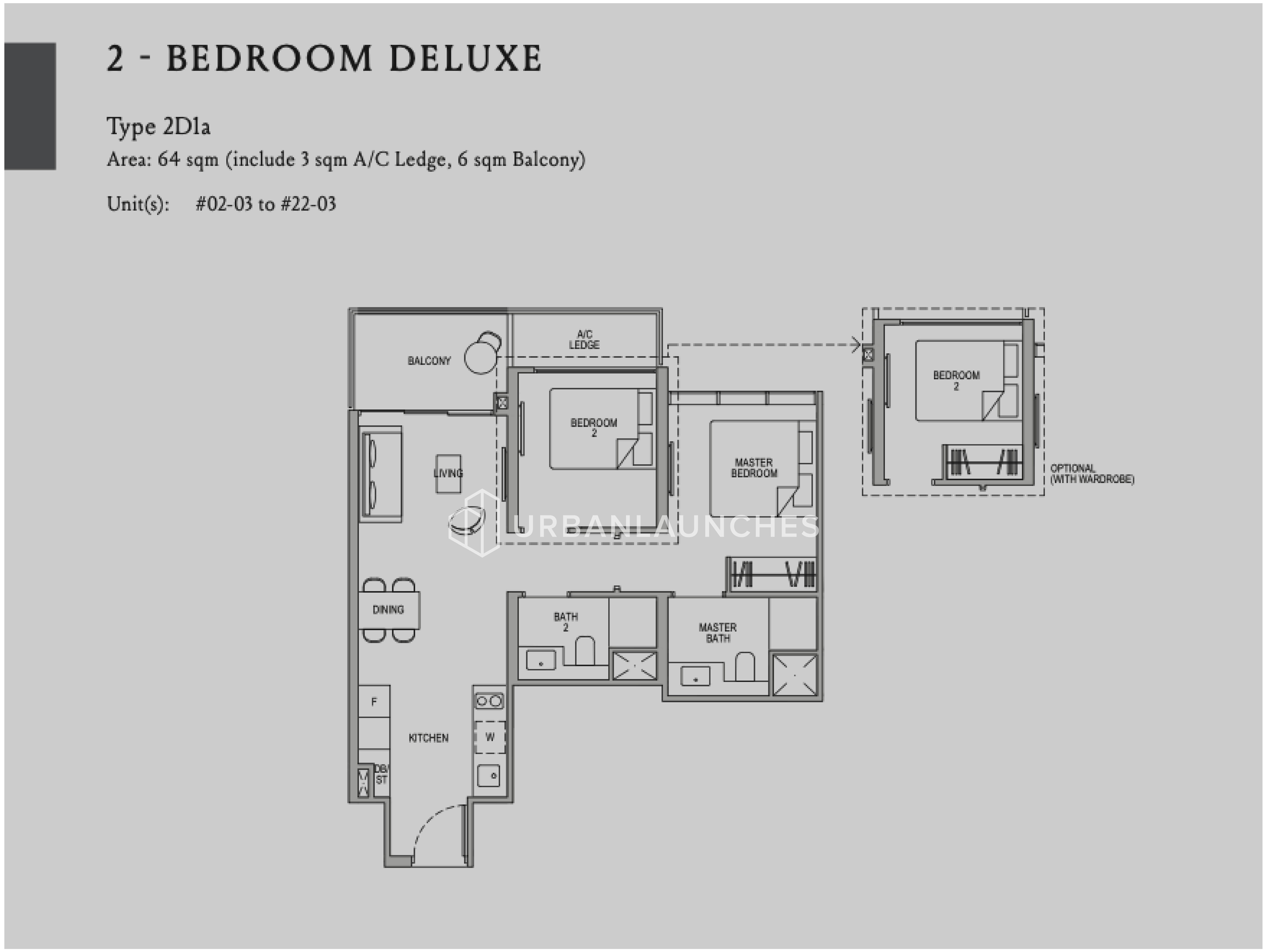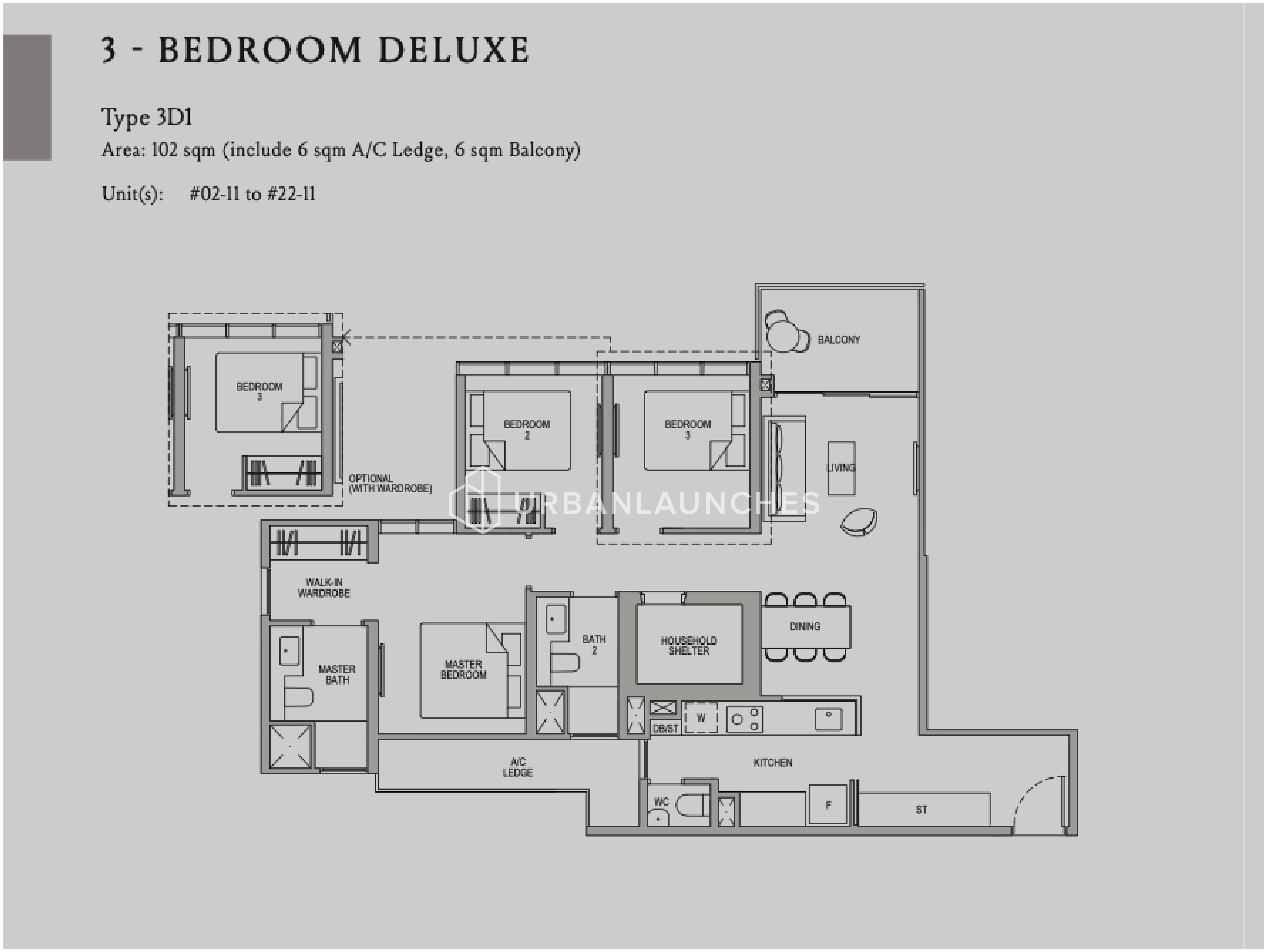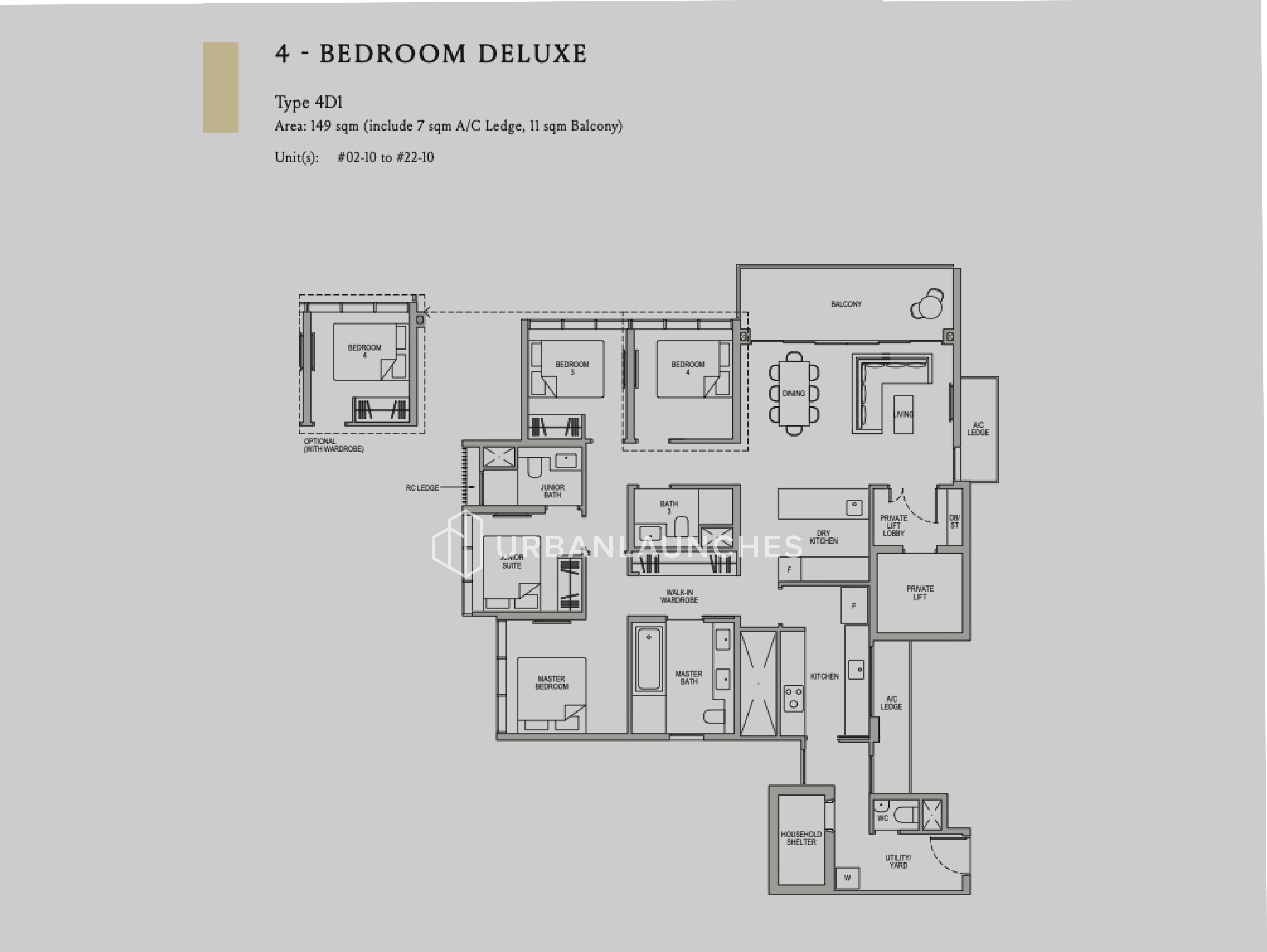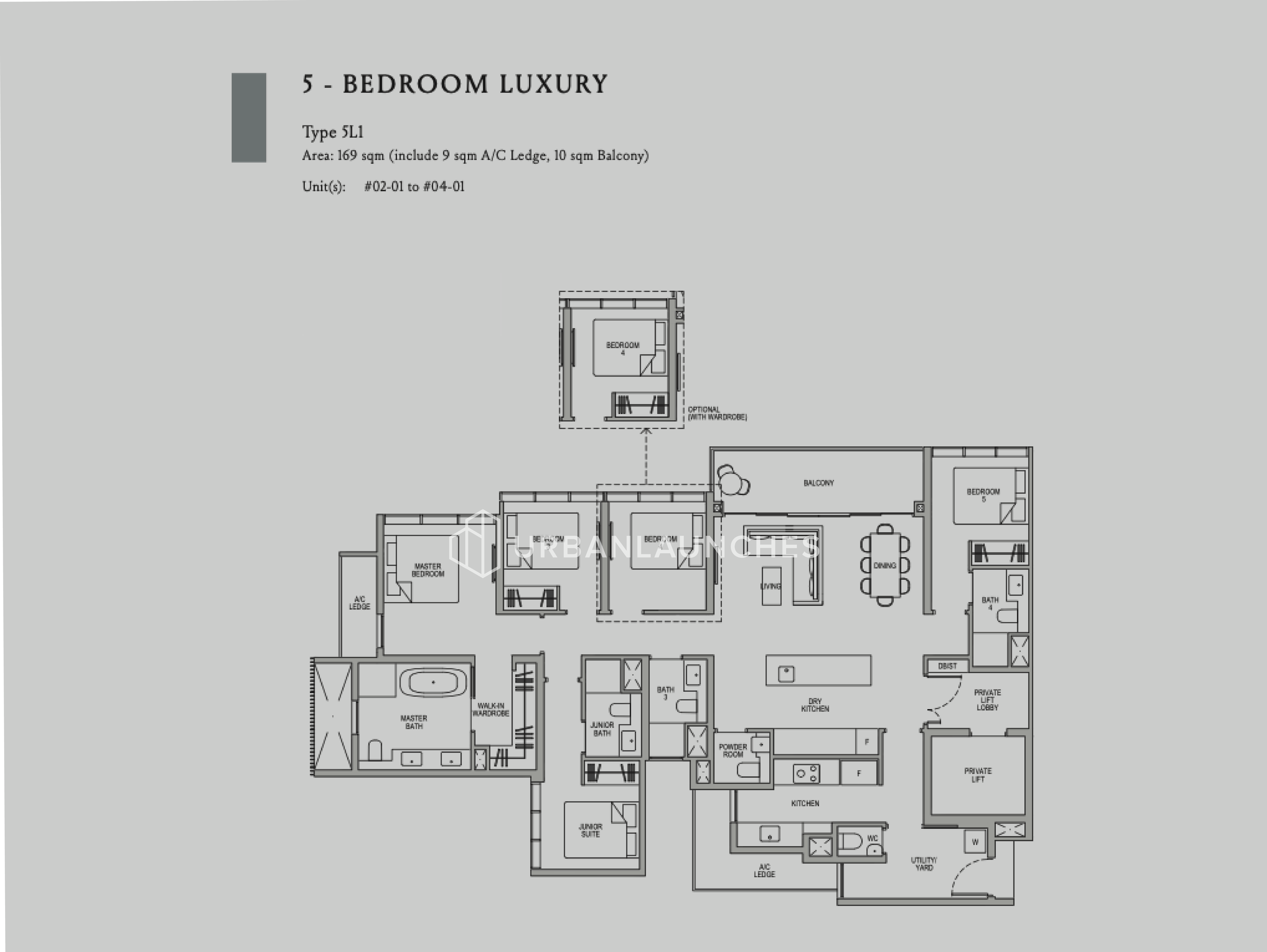 Kopar At Newton - 2 Bedroom Unit Review
The 2-bedders at Kopar At Newton come with two configurations: classic and deluxe. The difference? Deluxe units come with an extra common bathroom while the classic requires you to share the master bathroom. Let's take a closer look at the deluxe unit!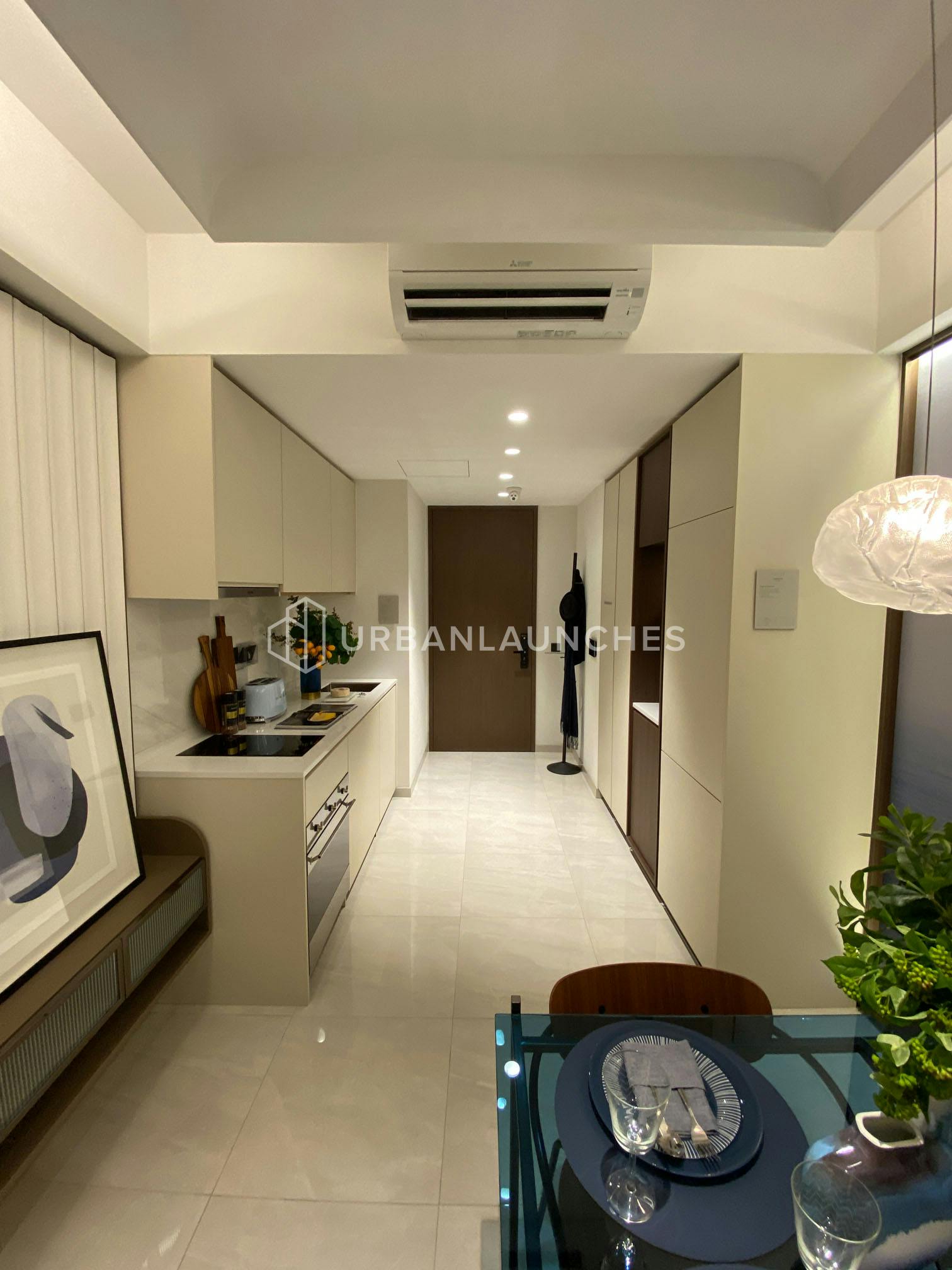 A trend that we've observed with newer developments is the placement of an open kitchen right at the entrance of your home. If entertaining is a hobby of yours, the lack of ample counter space or an island kitchen might be a dealbreaker.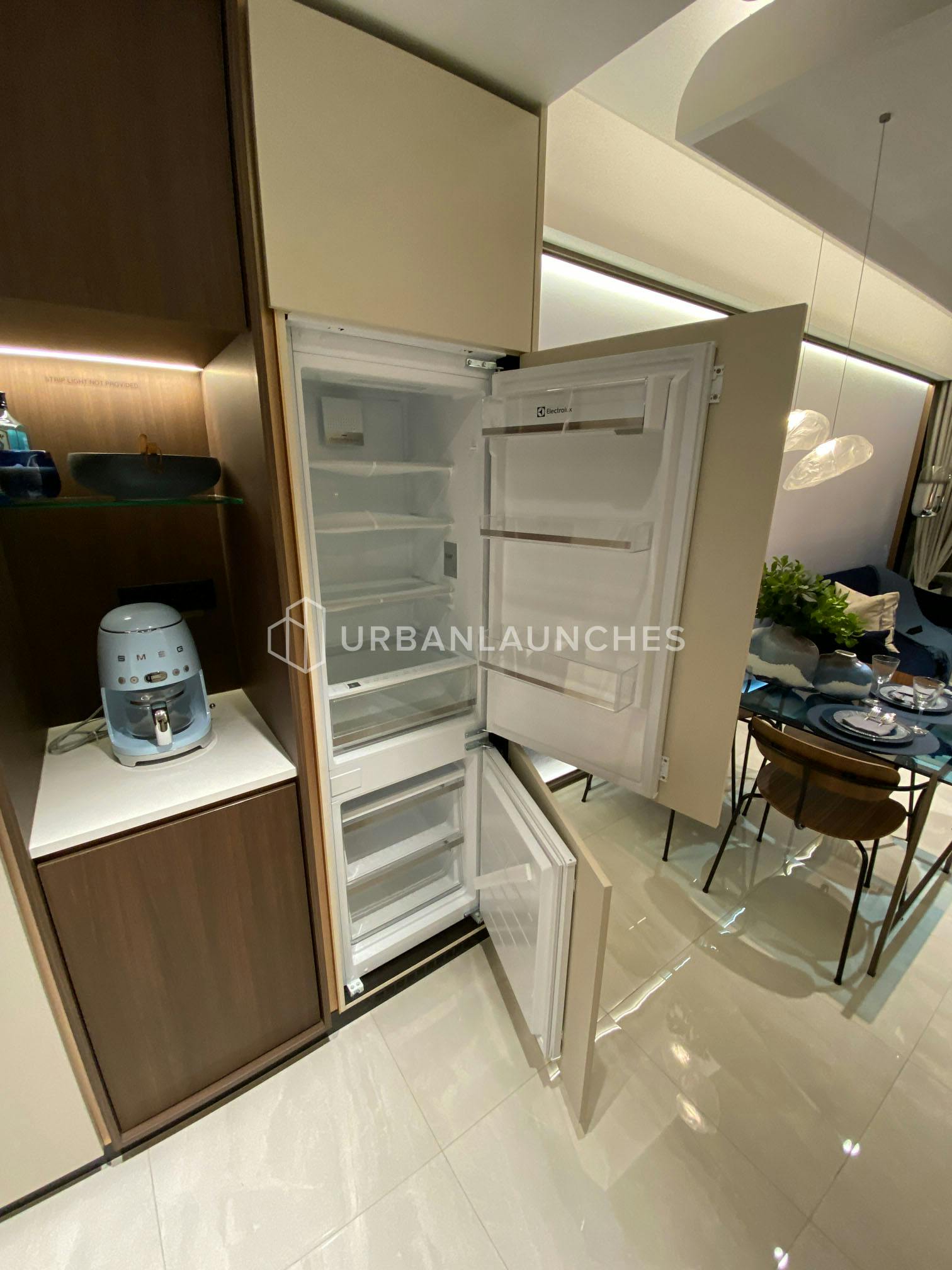 That said, the walking space is quite comfortable and the addition of built-in appliances (above) definitely does make space-saving an easier task.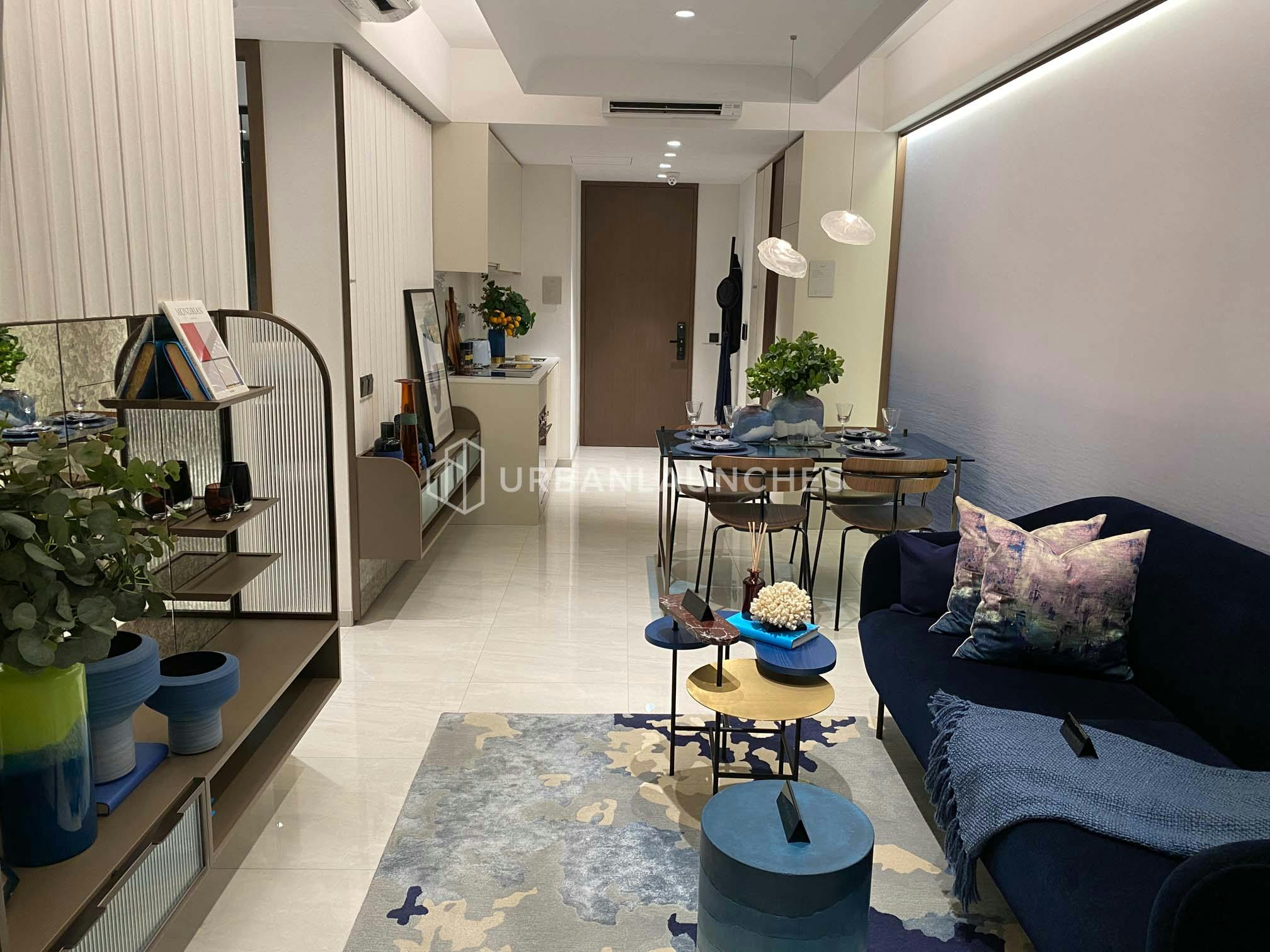 The unit's longish layout thankfully makes fitting a dining table and sofa set an easy feat. As we can see from the showroom, there's still ample walking room even after installing a television console and side cabinet. 
Could you stretch it and place a 6-seater table? It's possible, but if space is your priority we suggest sticking with a 4-seater.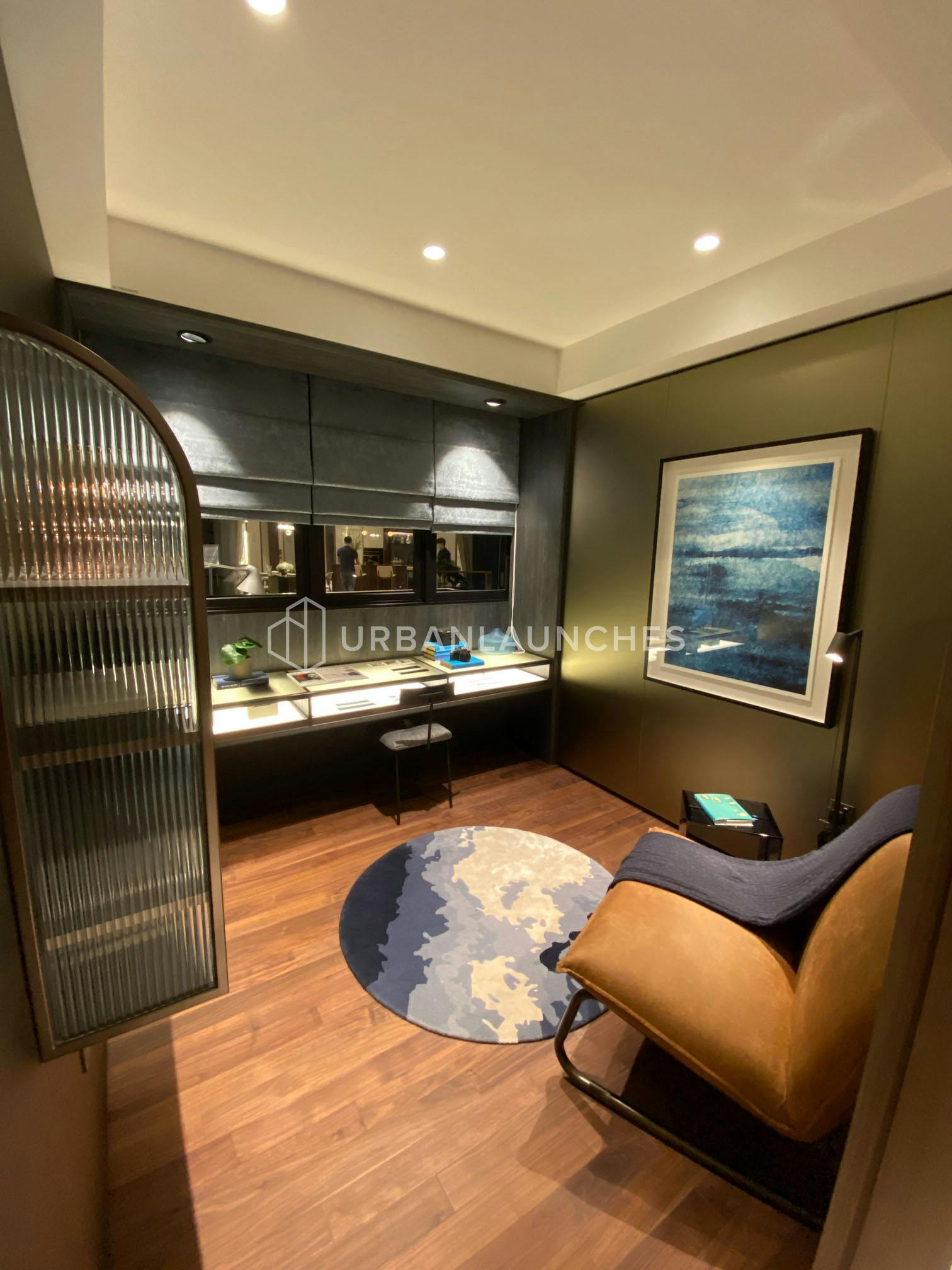 On to the common rooms! One thing we'd have to highlight is the fact that the first common rooms doesn't come with a built-in wardrobe. This allows the developers to turn it into a full study here and we must admit, it definitely looks cosy!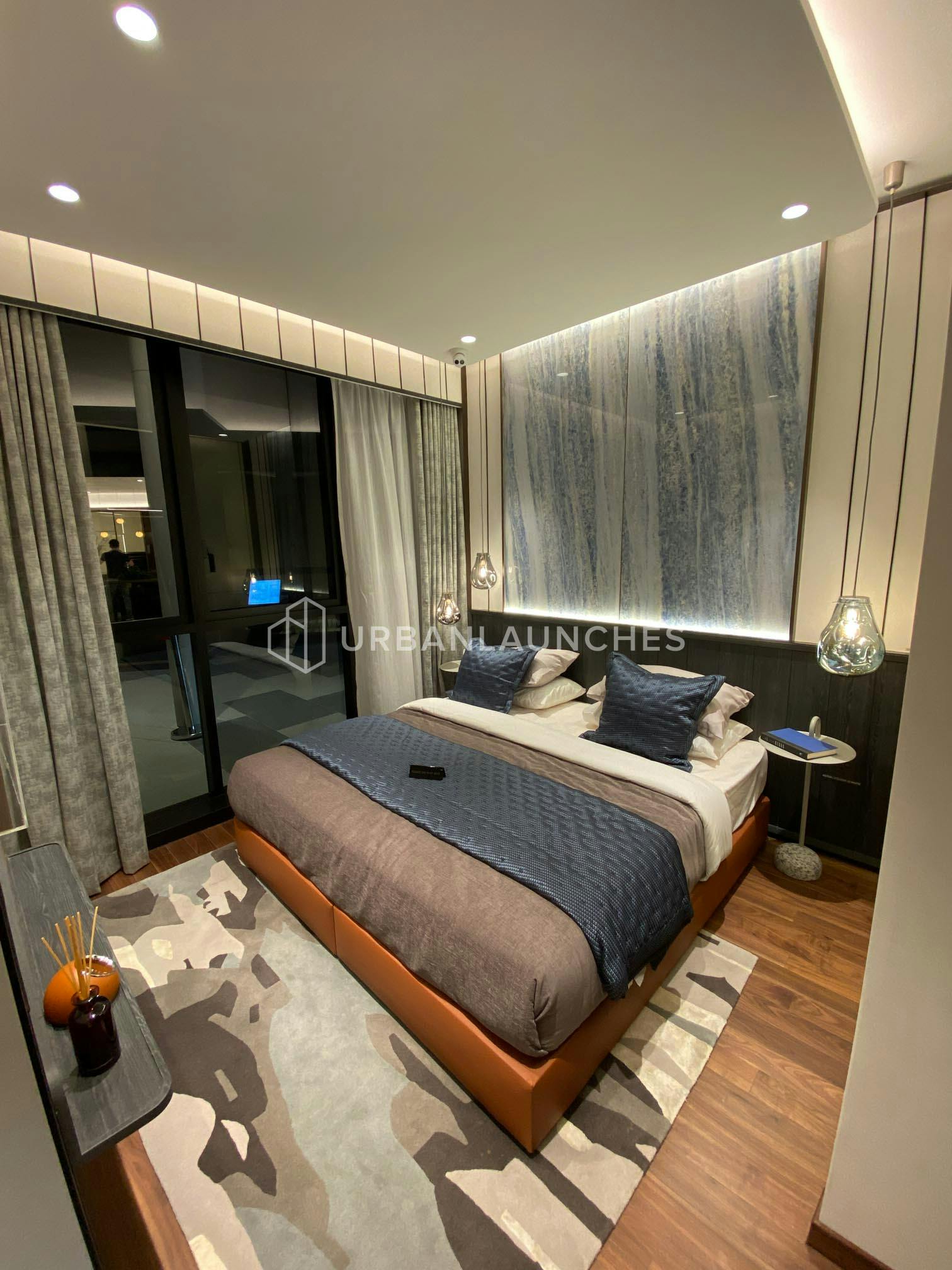 The master bedroom does give you a decent walking space, even after fitting in a queen bed. Thankfully, there are floor-to-ceiling windows in the master bedroom so you can wake up and bask in the gorgeous view!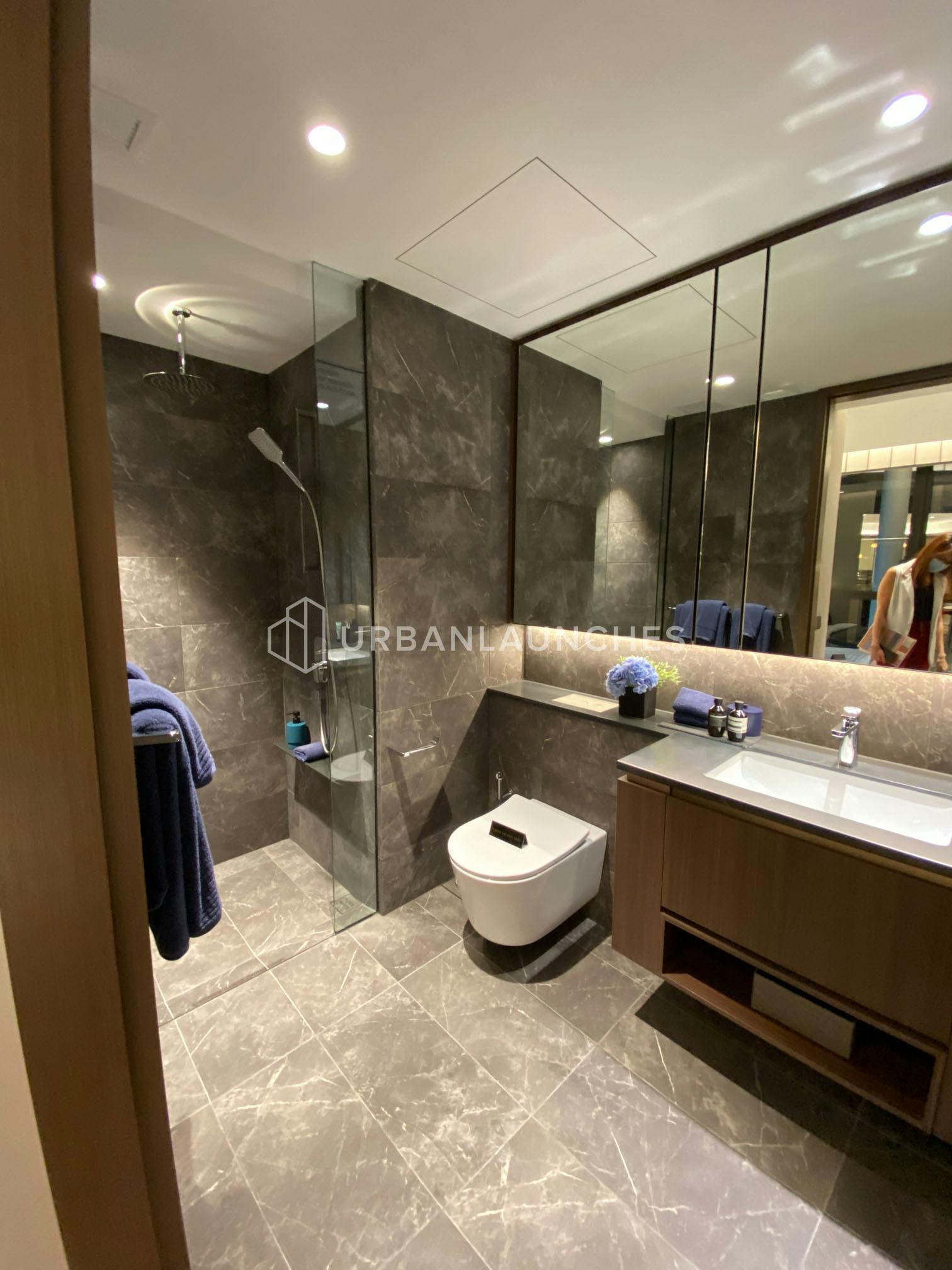 The master bathroom does exude the luxurious vibe of a posh hotel, we especially like the dark tones of the cabinets and functional fittings like mirrored cabinets and a rain shower.
Choosing The Best Stacks 
Looking for a 2-bedroom unit at Kopar At Newton? We'd recommend stacks 12 (Classic) & 13 (Deluxe) as they offer a view of the pool and the upcoming Avenir project. Stacks 3 & 8 (both Deluxe units) are decent too, however you might be susceptible to road noise from Bukit Timah Road or traffic from the Guest House. 
(Above) view from Block 8, Stack 12 with the afternoon sun via 3DView.
For a detailed breakdown of the unit mix, prices and latest transactions of Kopar At Newton, head down to our pricing page here.
Kopar At Newton - 3 Bedroom Deluxe Review
Similar to the 2-bedders, there are two configurations for the 3 bedroom units: classic and deluxe. While they roughly share the same layout, the deluxe unit offers additional space allocations for a household shelter (great if you are living with a helper who may need an extra room) and an additional bathroom and utility space.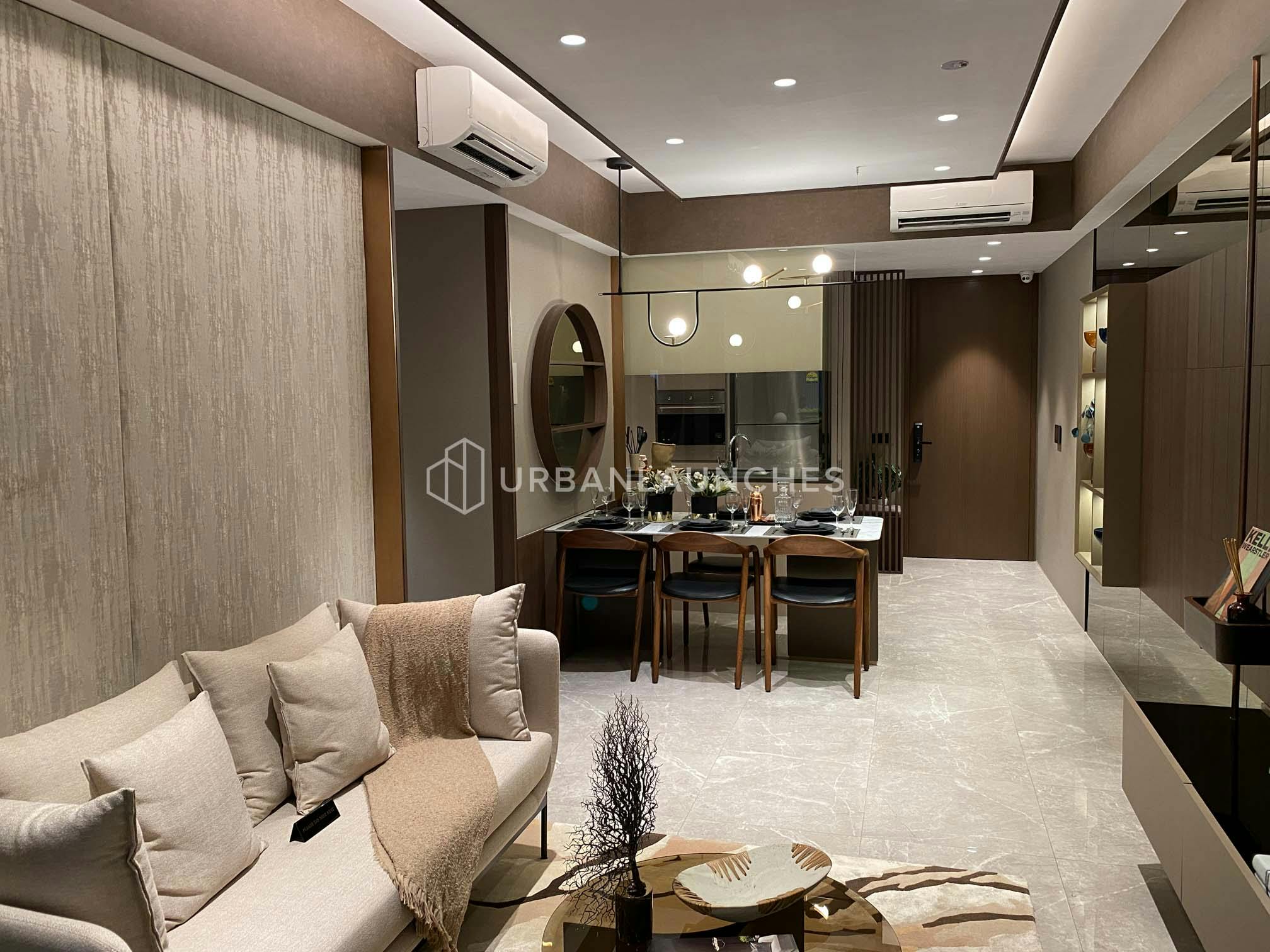 Perhaps it is the way the 6-seater dining table is positioned, but the dining area does feel a little tight, especially since it is flushed directly to the wall. Perhaps a horizontal layout might work better, but we reckon it might still feel a little constricted.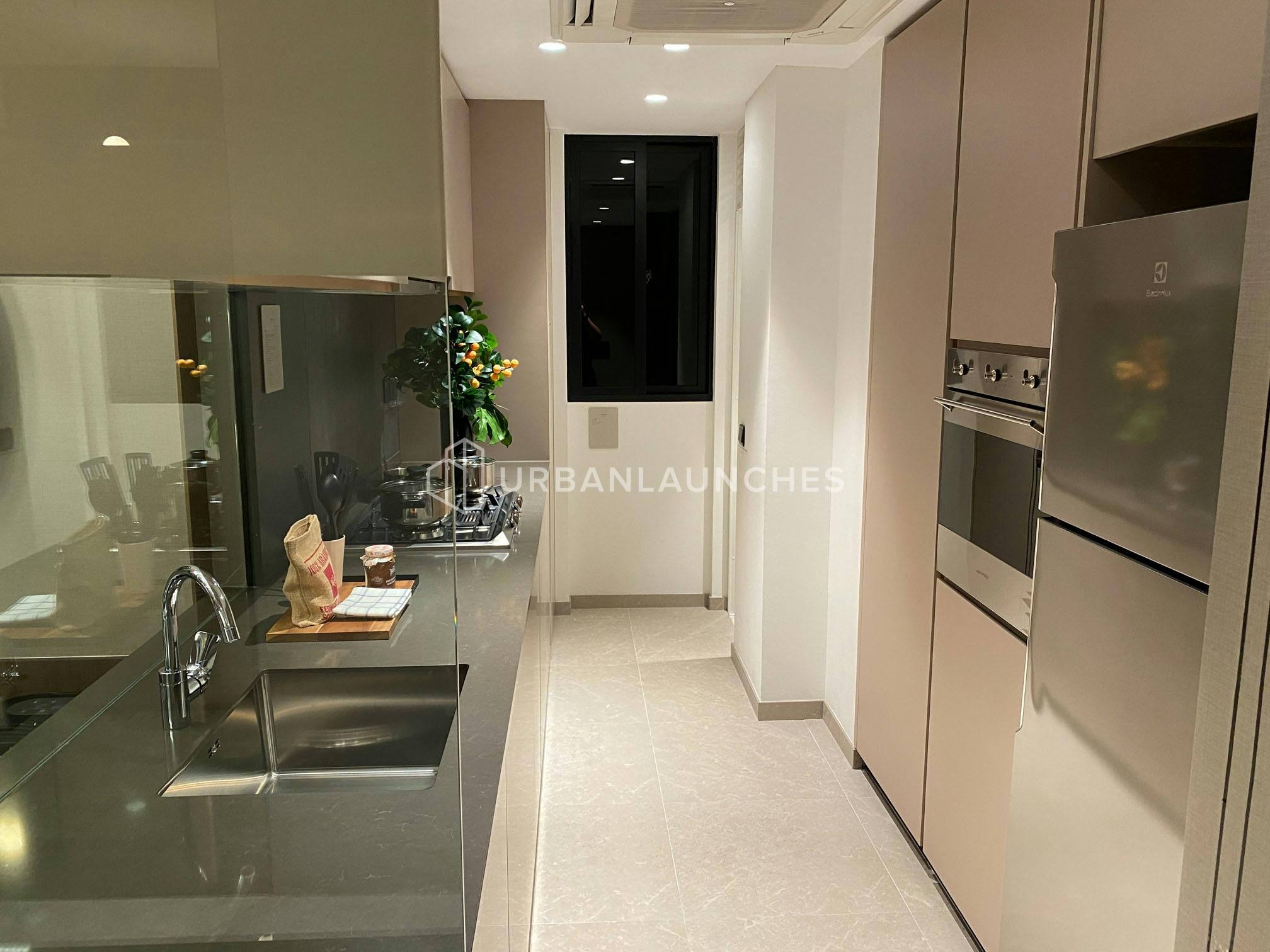 While the longish layout of the kitchen provides ample counter top space, it might be a little too tight for more than 3 people at a time. On the upside, we like that the stove is placed closer to the window for more ventilation after heavy cooking.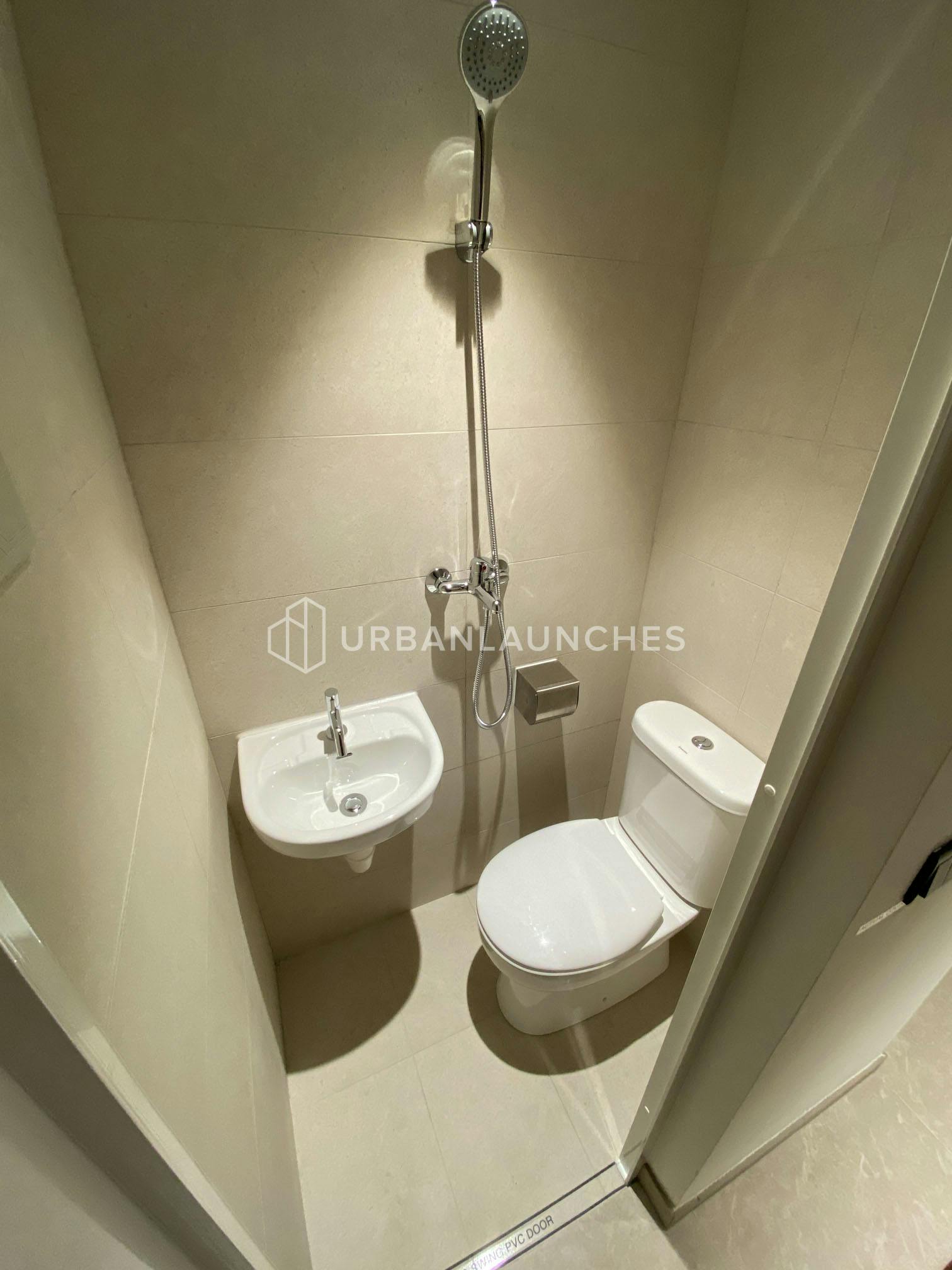 The bathroom at the end of the utility space is rather small - we think that it might be more practical to remove the toilet and sink to make space for a stacked washer and dryer.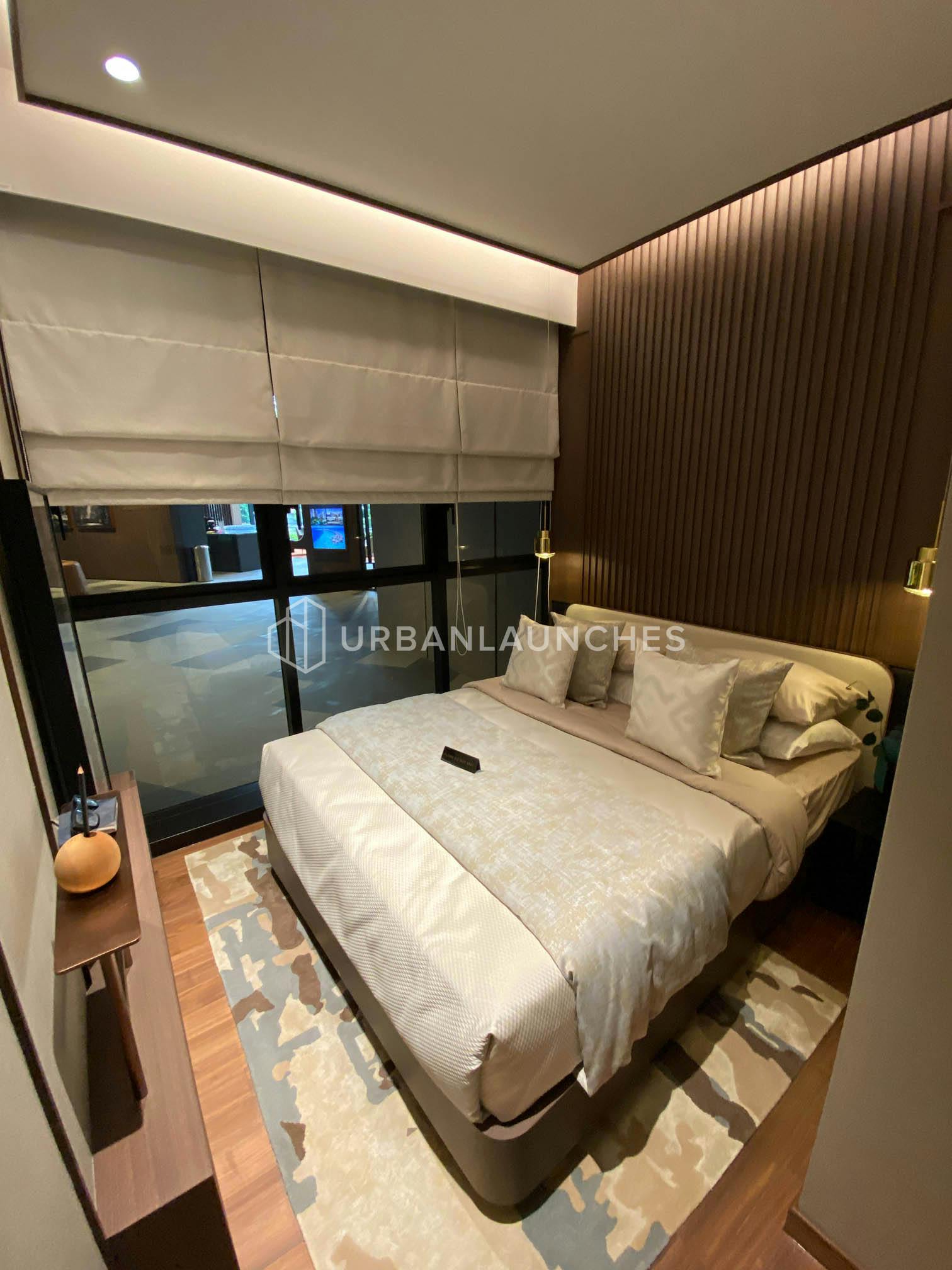 Moving along to the common bedrooms, they are of standard size (which should be enough for most uses), however we like that both rooms come with floor-to-ceiling windows.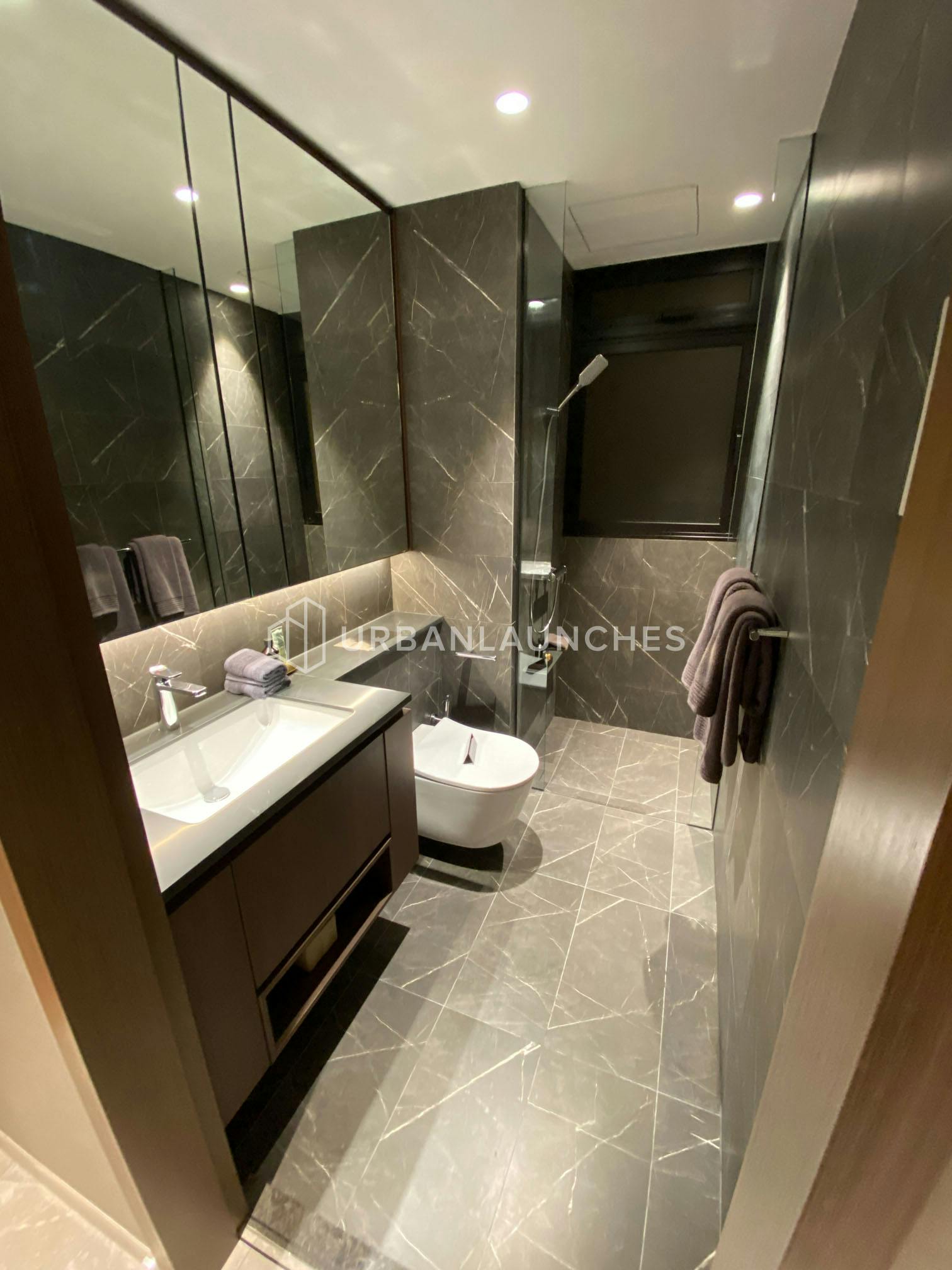 The common bathroom is pleasantly spacious, with enough distance away from the shower area and sink (a plus to prevent the entire floor from getting wet).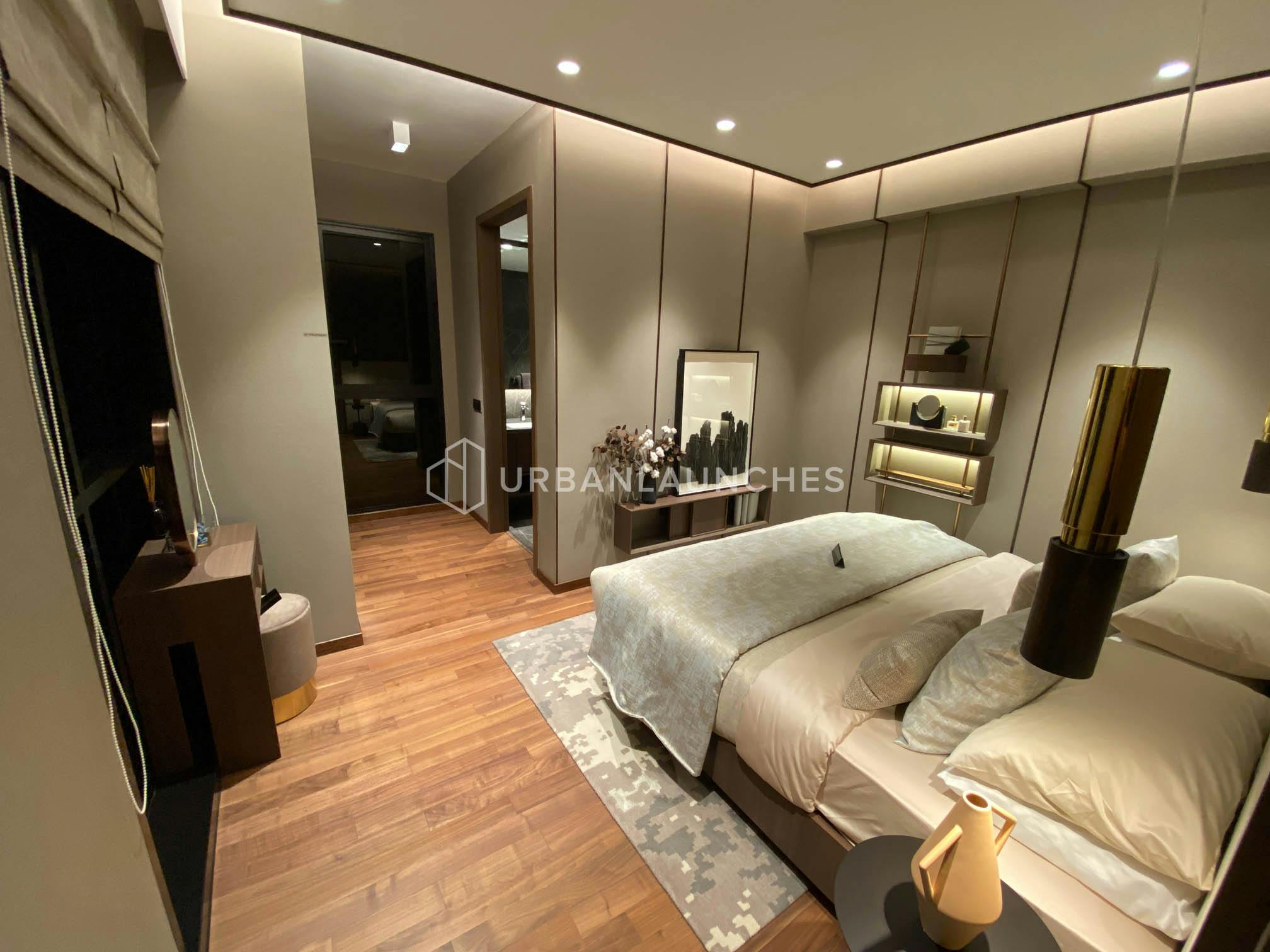 For a 3-bedder, the master bedroom is definitely of a good size! The layout is functional as well - a full-length window adds in more natural daylight, while the 'walk-in' wardrobe also makes getting ready in the morning way easier with proximity to the bathroom.
As for the room itself, there's still plenty of space to move around after placing a queen size bed.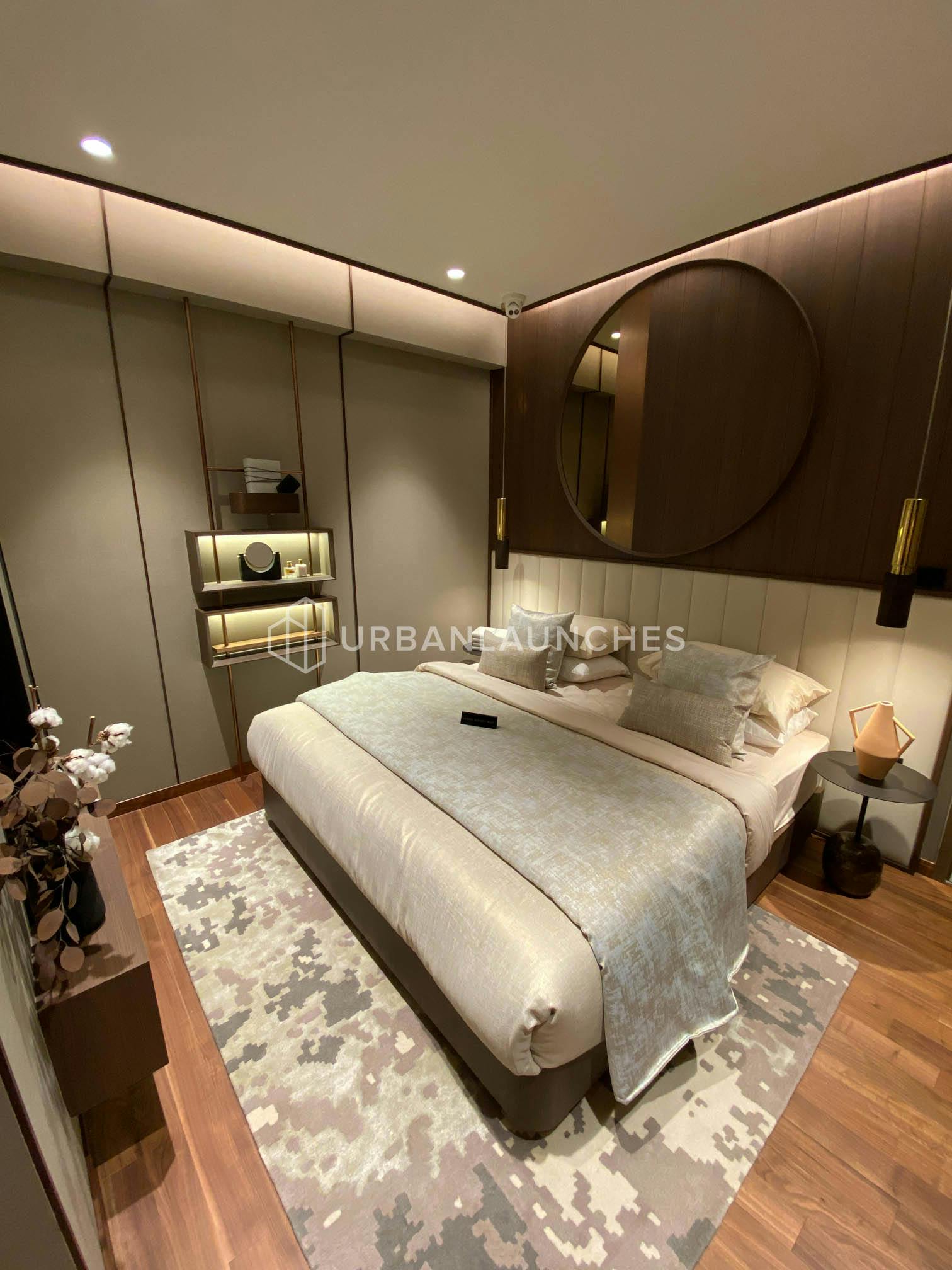 The master bathroom is a replica of the common bathroom, and there are unfortunately no 'his & hers' sinks here. Despite that, it is still a well-designed bathroom, and the addition of a rain shower is always a plus. 
Choosing The Best Stacks
There are only 4 stacks with 3-bedders: 2 & 11 for Deluxe and 6 & 16 for Classic. We recommend going for stacks 2, 6 & 11 as they not only offer decent views, but have less exposure to afternoon sun as well.
(Above) View from Block 6, Stack 6, Level 12.
For a detailed breakdown of the unit mix, prices and latest transactions of Kopar At Newton, head down to our pricing page here. 
Kopar At Newton - 5 Bedroom Luxury
As one of the biggest units at Kopar At Newton, the 5 Bedroom Luxury unit truly embodies its status as a luxury condo.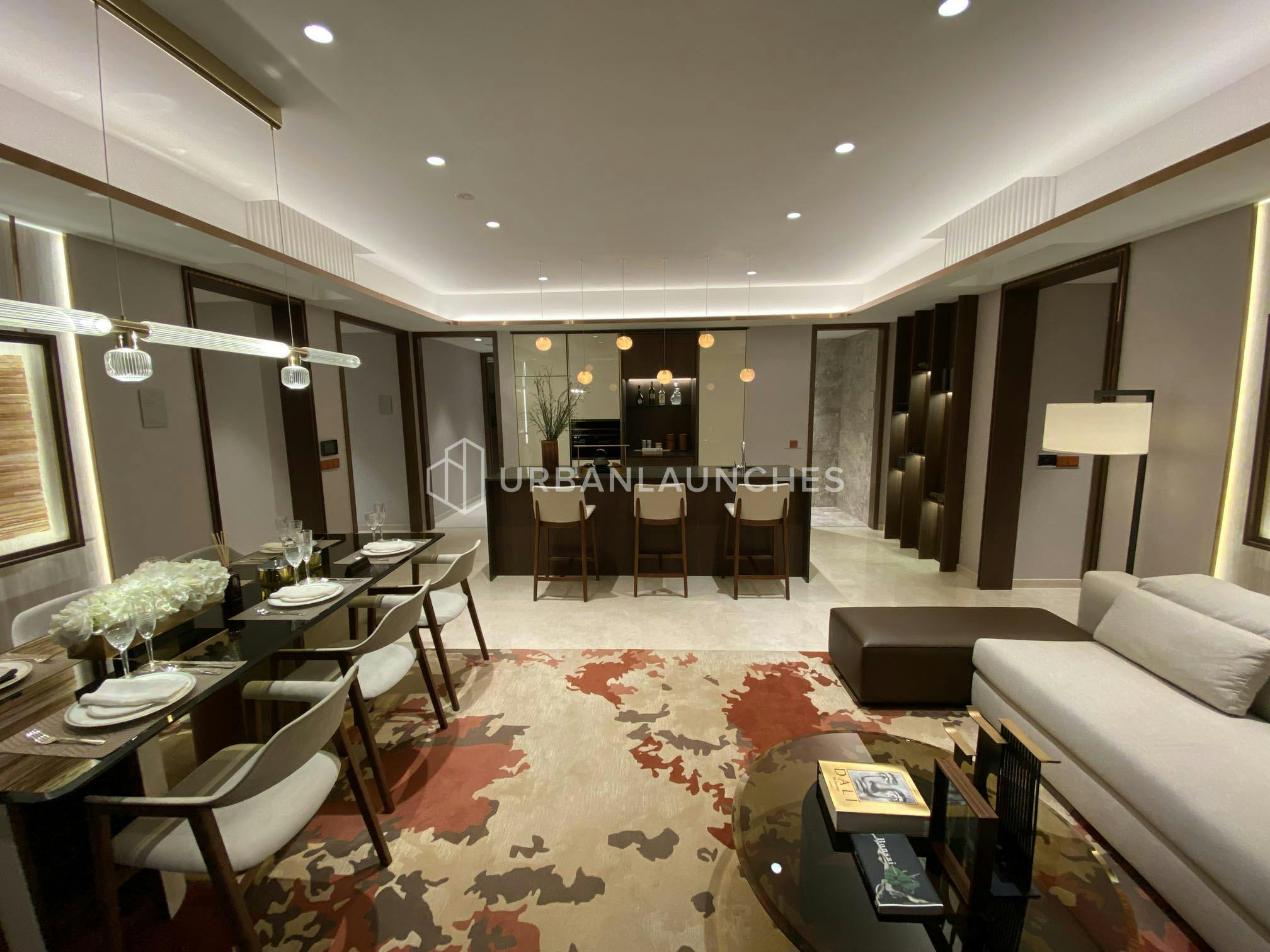 With over 1,819 sqft of space, the 5 Bedroom Luxury comes with a private lift (and lobby), a separate wet and dry kitchen as well as three ensuite bathrooms that will cater perfectly to larger families.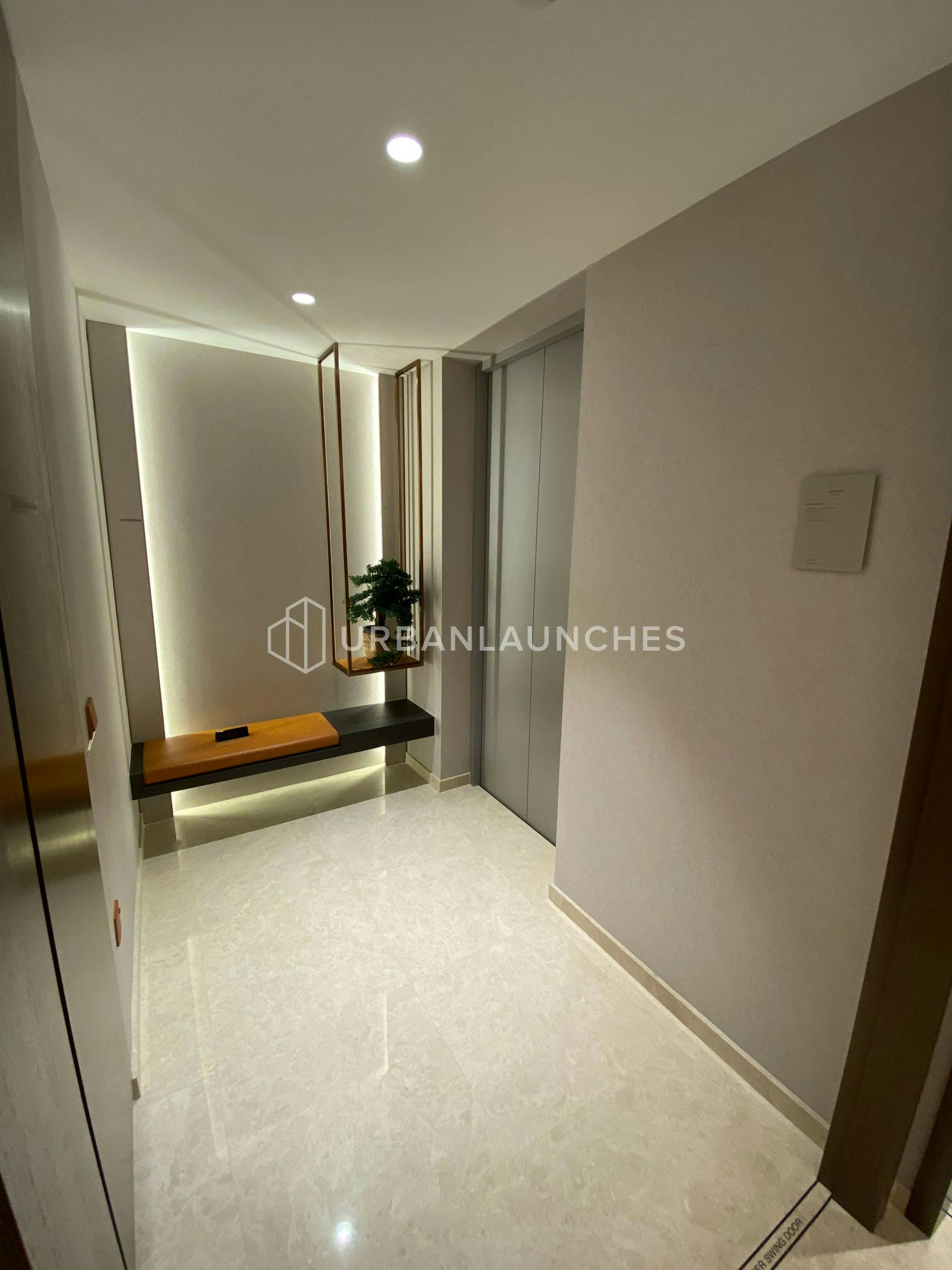 Your private lift lobby leads you directly into a massive living space. Now imagine coming home to this everyday!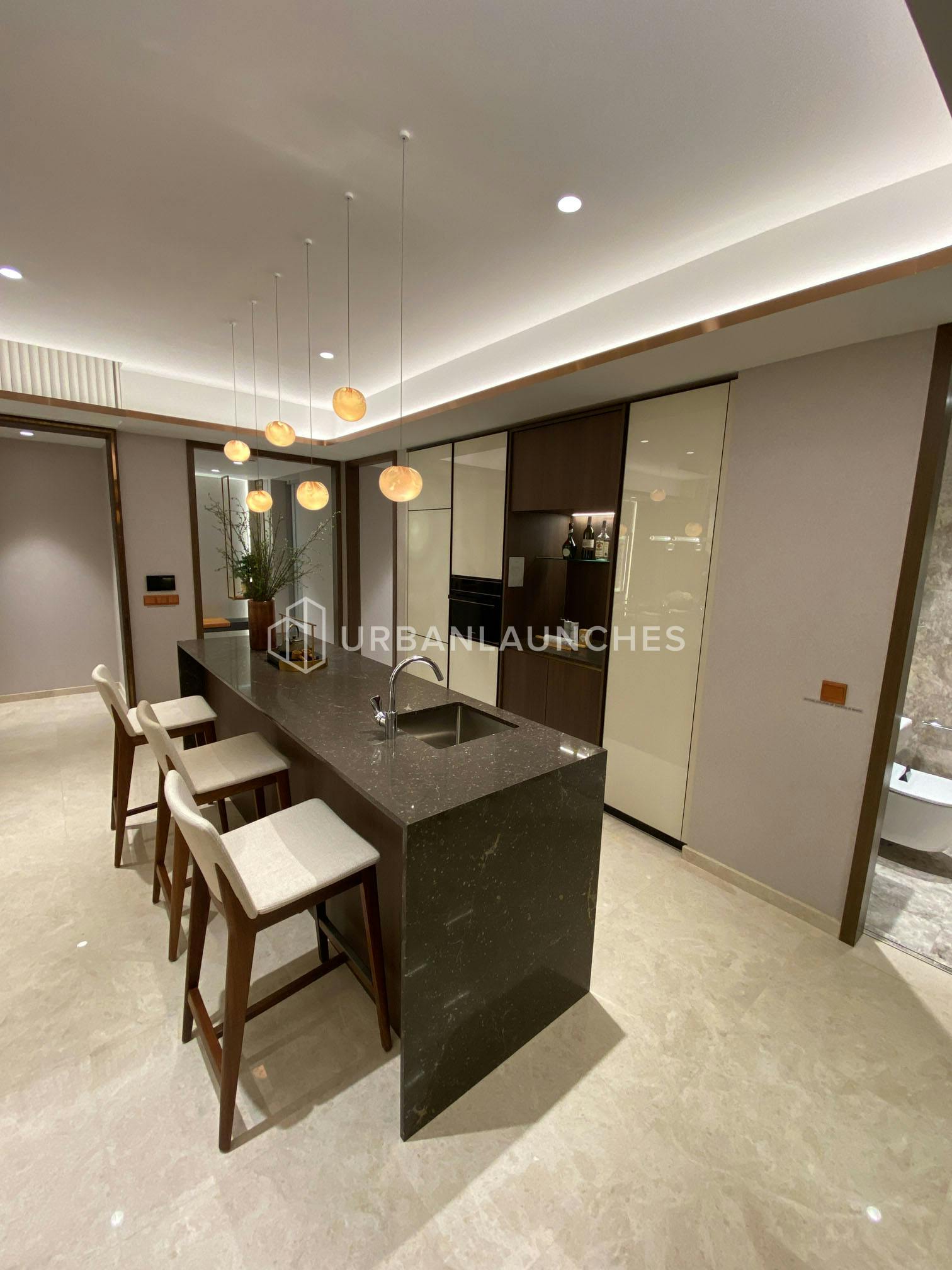 Both functional and beaming with understated elegance, the dry kitchen acts almost a centerpiece for your living room. Throw in a few high chairs and you've got a spot for casual dinners or sumptuous brunch!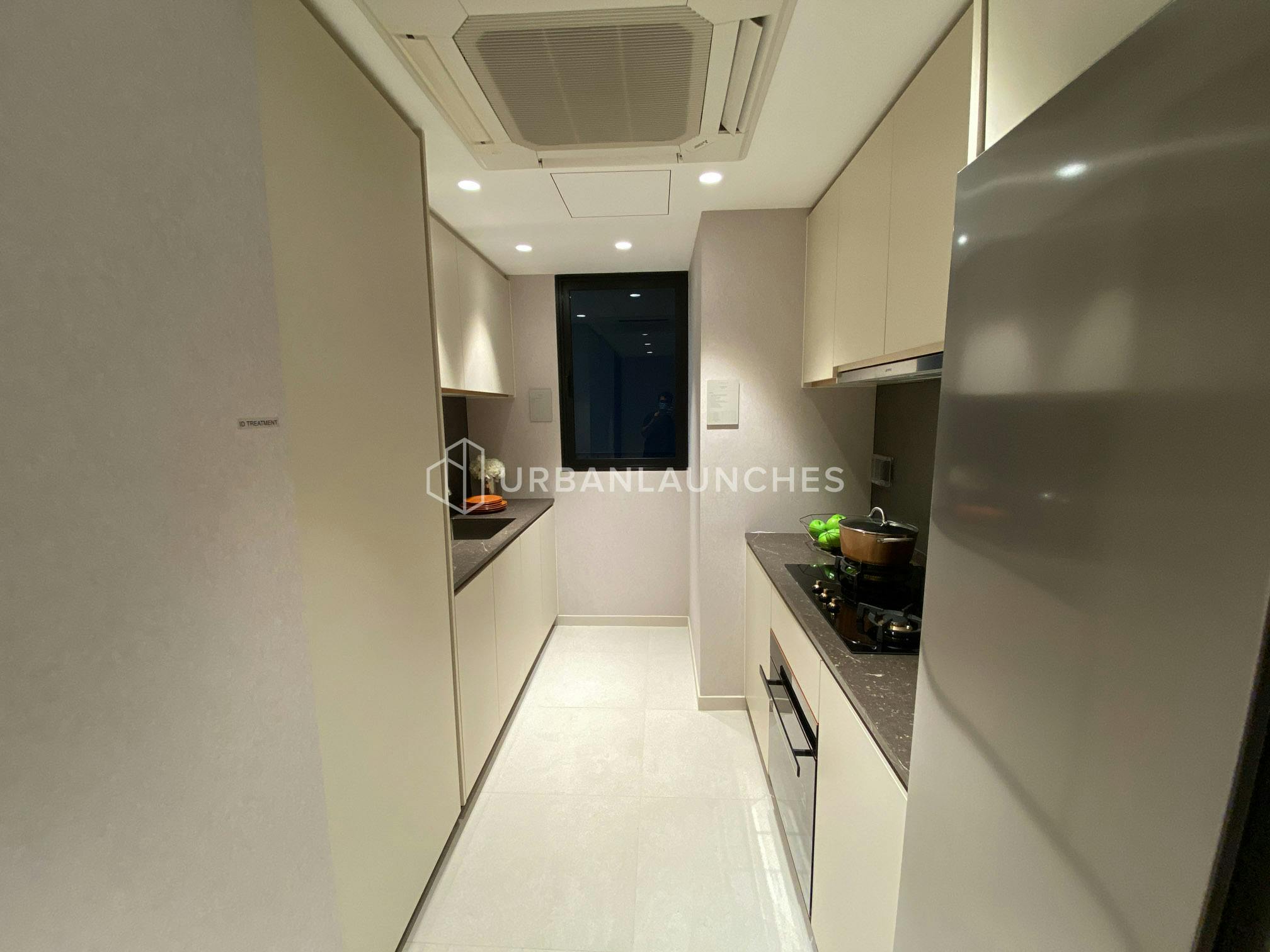 Moving along to the wet kitchen, it does somehow pale in comparison when it comes to design, we would've liked to see more colour or texture here. However, it's a good size to allow for heavy cooking and includes a second built-in oven that'll come in handy for weekend roasts.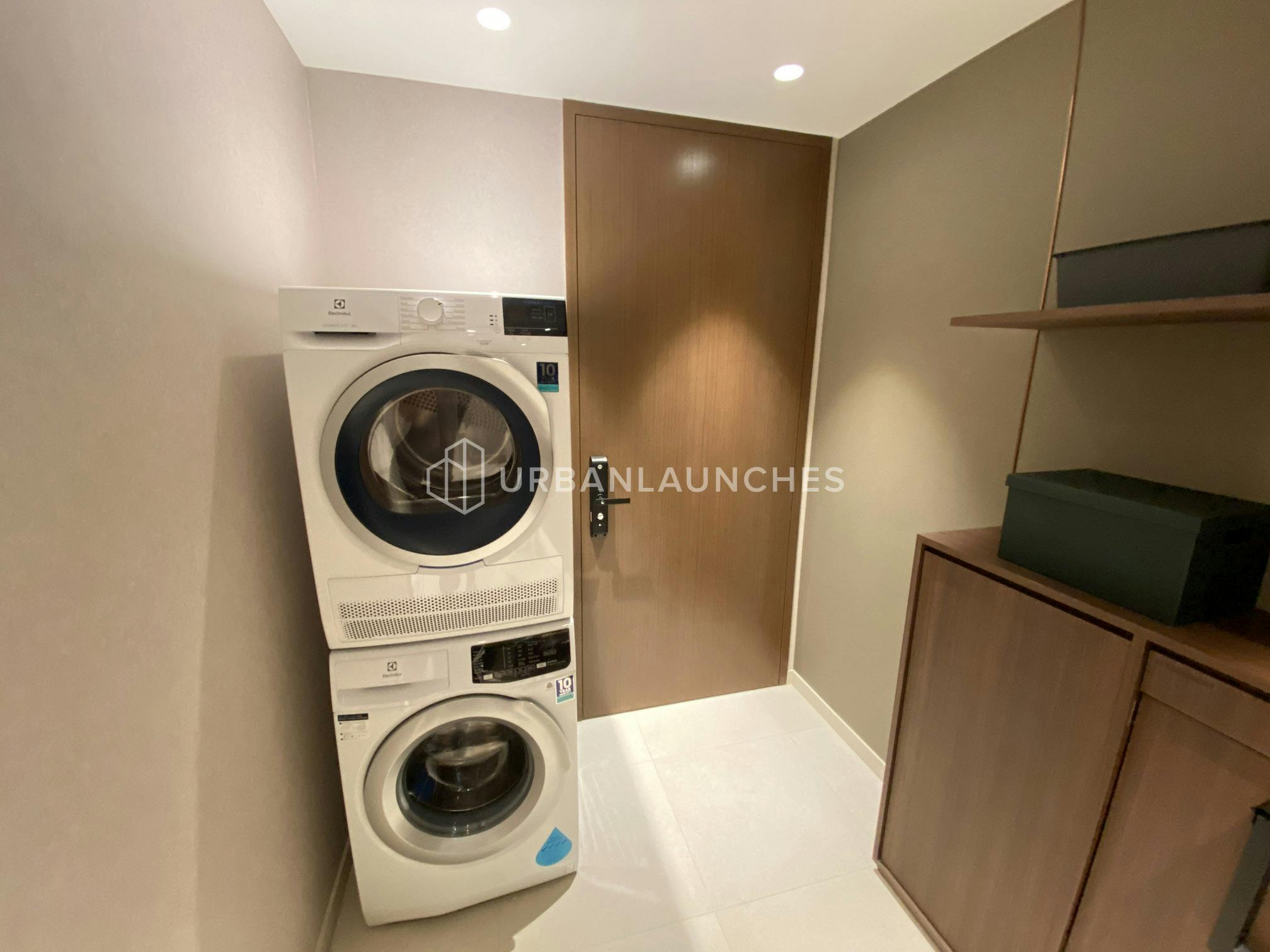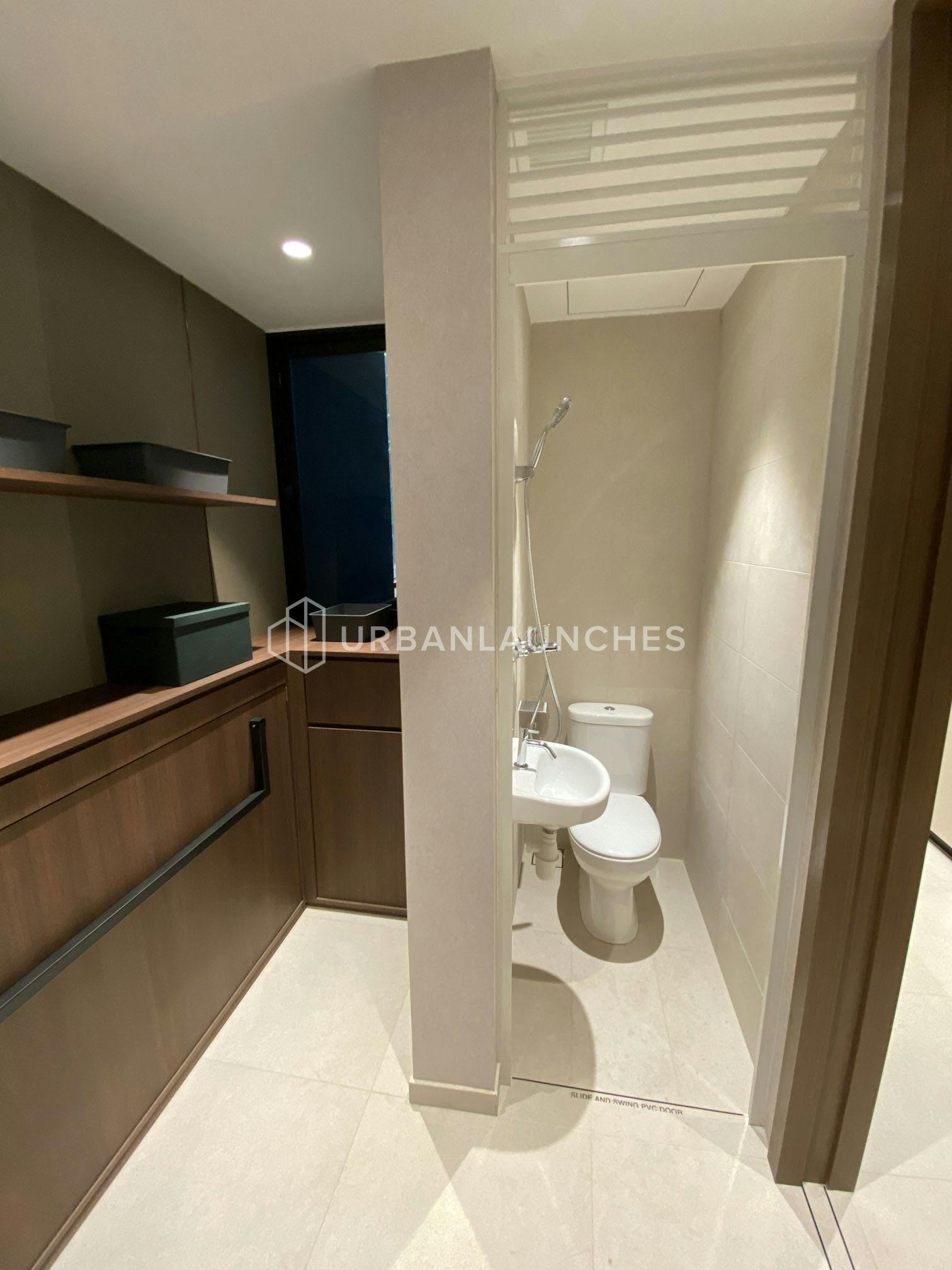 The utility room is thankfully big enough to get most household works done. We'd recommend turning the additional bathroom into a washing/dryer space to truly maximise the usable space in this area.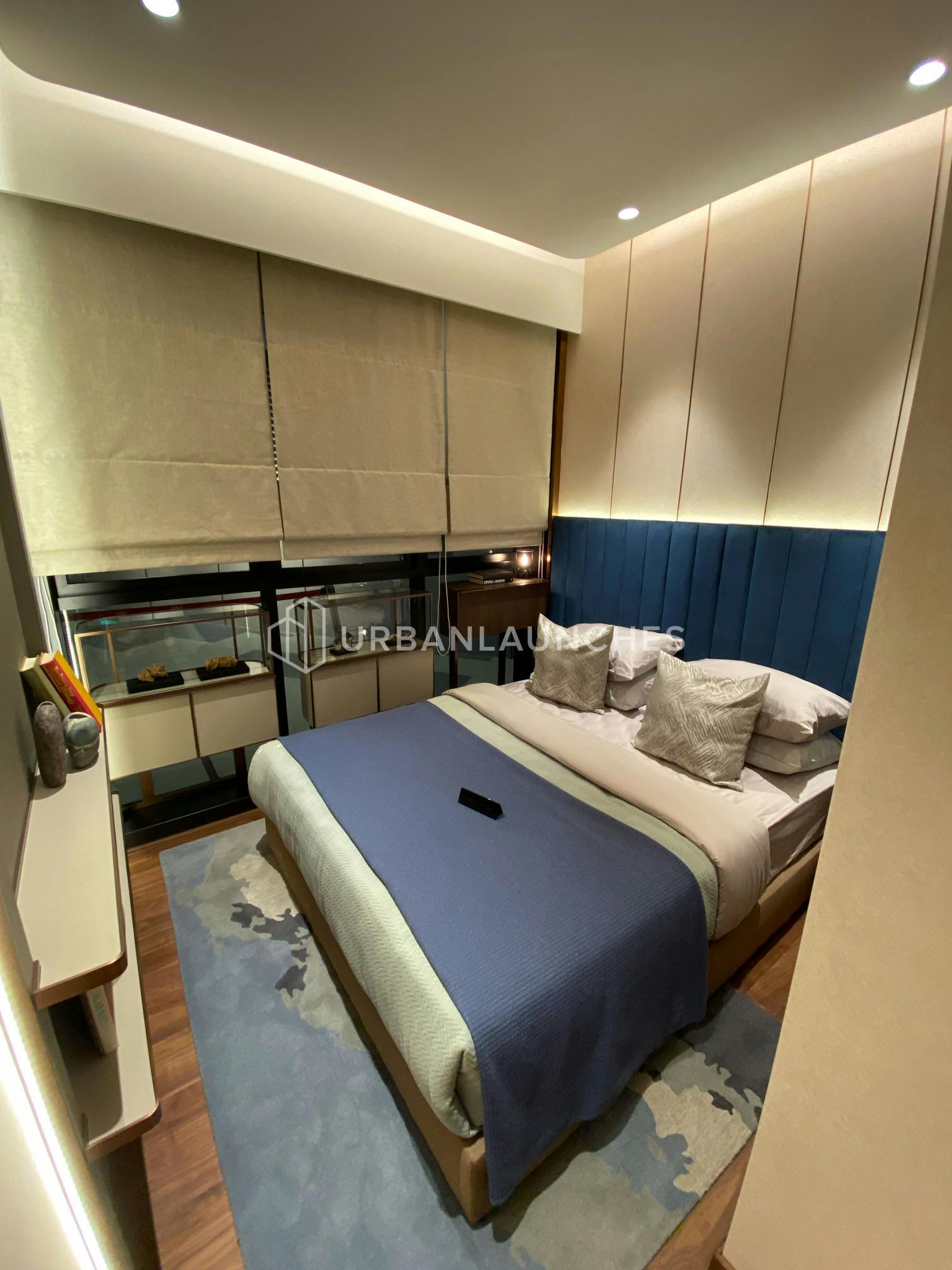 Now onto the bedrooms! This 5 Bedroom Luxury unit comes with 3 common rooms in total and since they do not differ in layout and style, you may consider converting them into separate study rooms if required.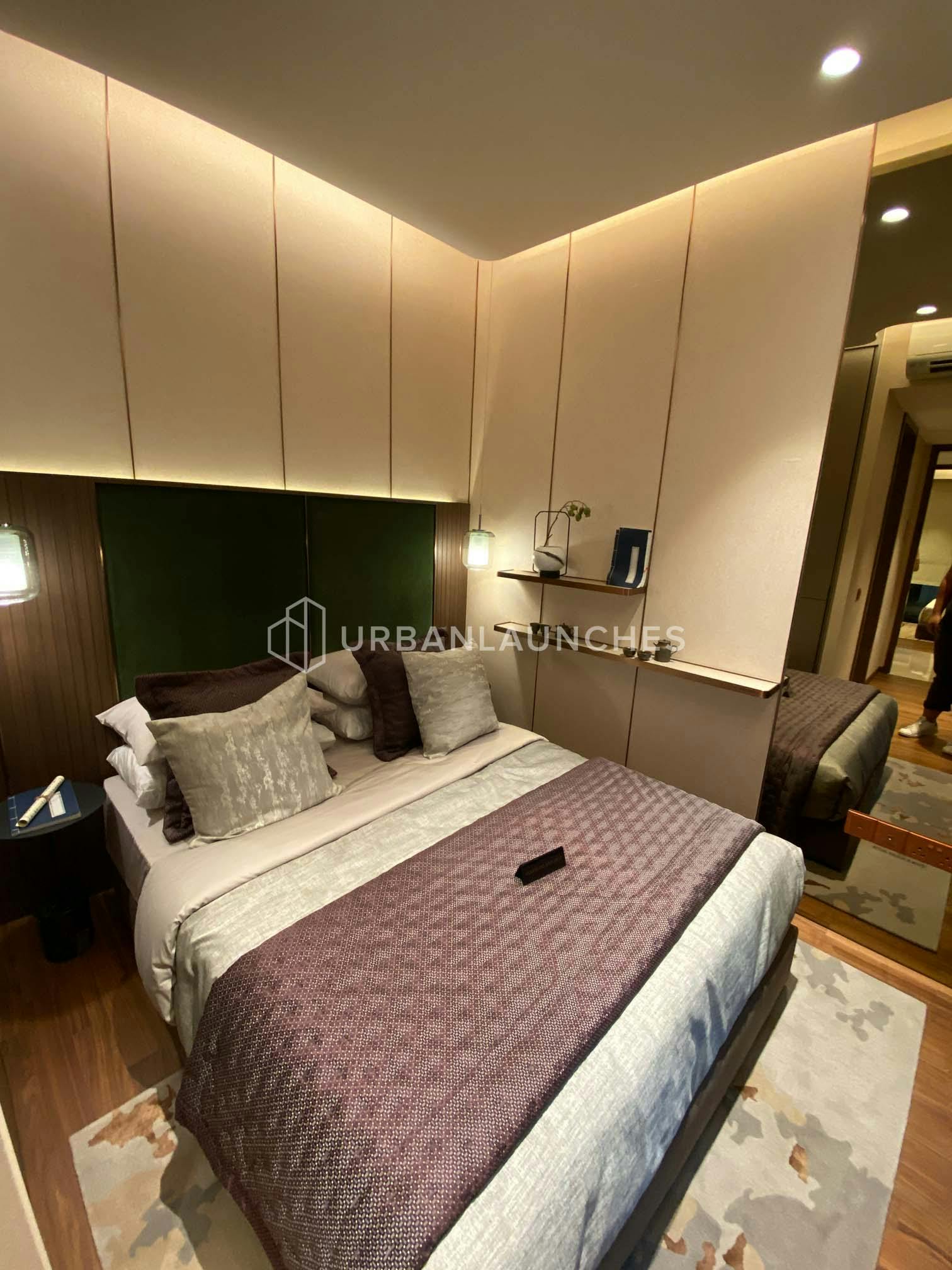 The junior suite on the other hand is a rather peculiar one as there seems to be little to no differentiation in comparison to the common rooms (save for the longer entrance). Do note that the views would also differ since each room faces a different direction.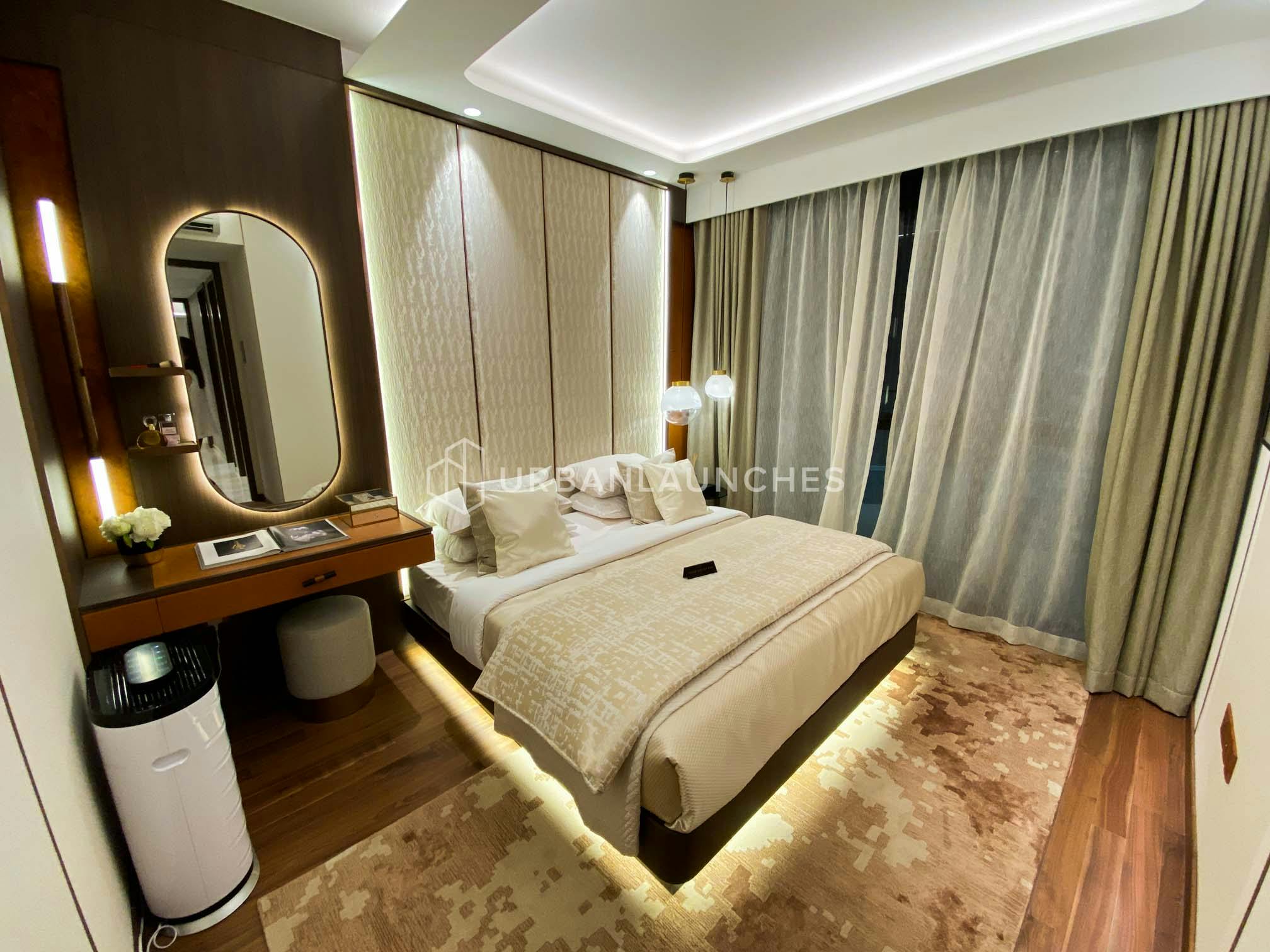 If luxury is what you want, luxury is what you'll get with this master bedroom! We like that the ID has created a seamless contrast of warm wooden touches and white ascents, making the master feel bigger than it really is. Even after fitting in a king bed, side table and a dresser, there is still plenty of space to move around.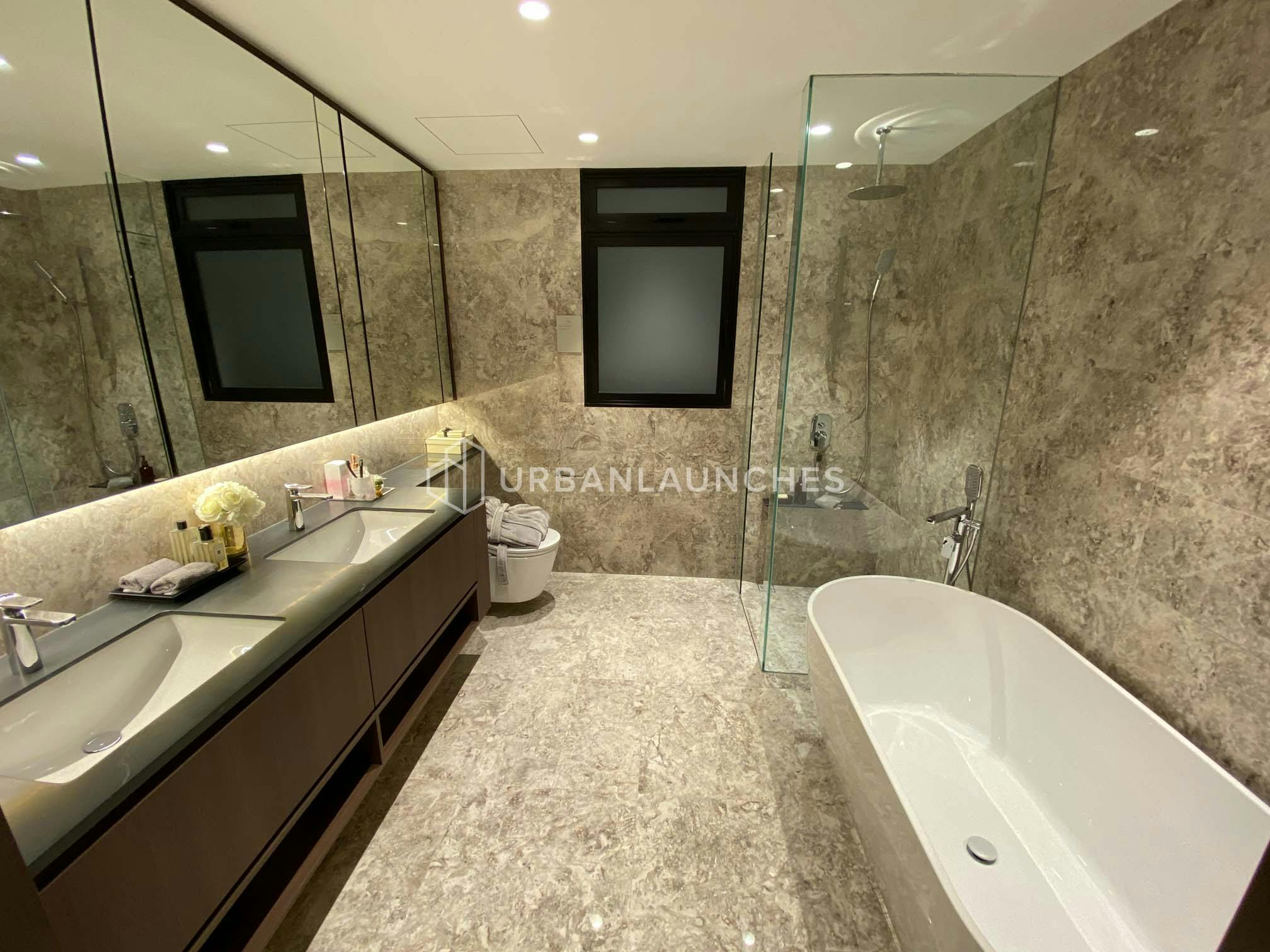 While the master bathroom is luxurious in its own right, we can't help but notice that the choice of tiles here has made the space busier than it should be - but we reckon this is something that you'll probably get used to as you soak in your tub, wine in hand.  
Choosing The Best Stacks 
The 5 Bedroom Luxury units face directly into the infinity-edge pool, and while you do get plenty of sunlight all year round, you'd receive the least road noise and close proximity to the stellar Clubhouse.
(Above) View from Block 6, Stack 6, Level 23.
For a detailed breakdown of the unit mix, prices and latest transactions of Kopar At Newton, head down to our pricing page here. 
Location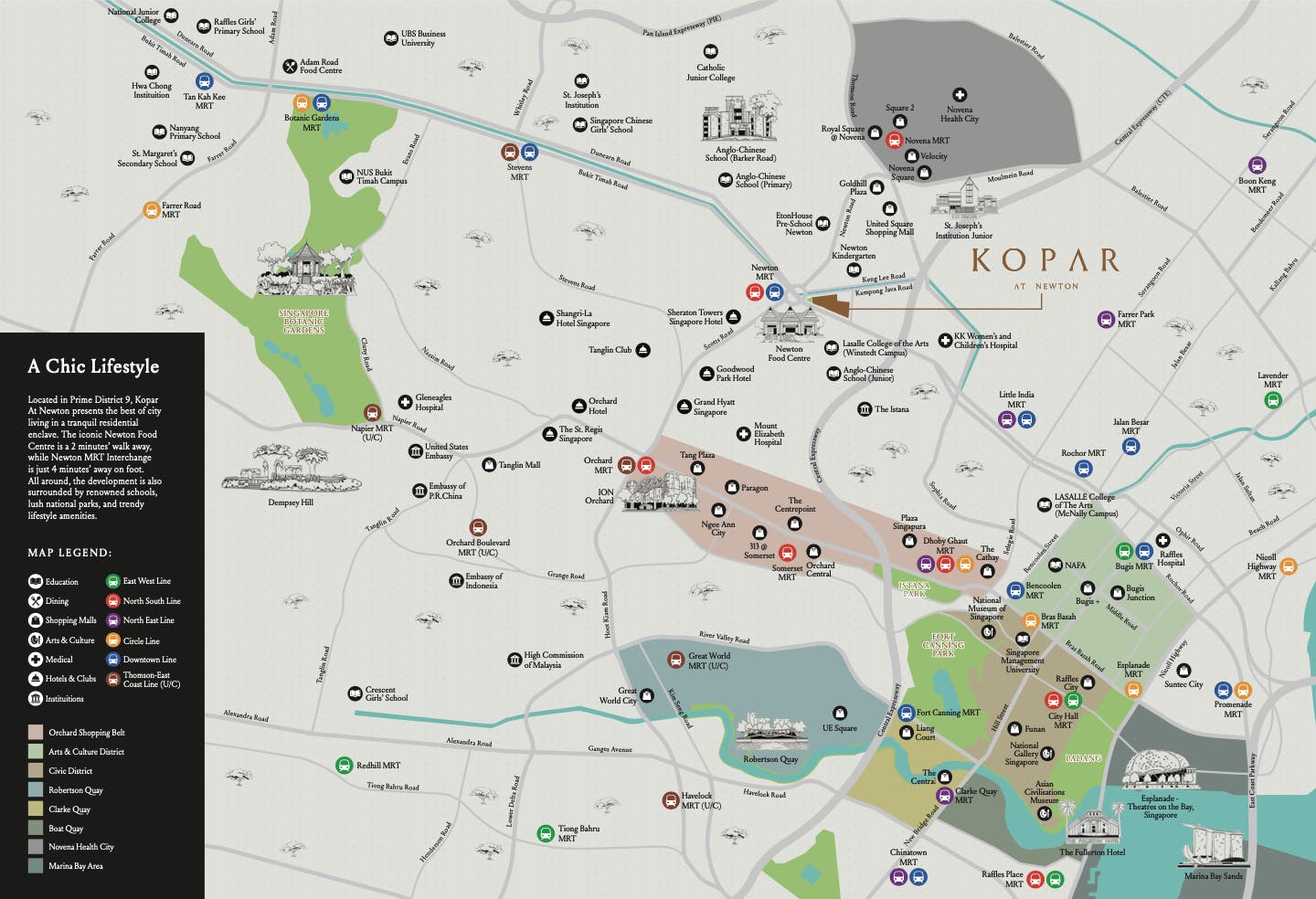 Kopar At Newton's prestigious location in District 9 requires no introduction. It's 2 minutes away from Newton Food Centre, walking distance to Newton MRT and strategically placed in proximity to prestigious schools, shopping districts and the best private hospitals. 
Public Transport Links
Living right at the foot of Newton MRT gives you extra connectivity to various parts of Singapore via connecting lines (Downtown & North South Line @ Newton MRT, Circle Line @ Dhoby Ghaut and the future Thomson-East Coast Line at Steven MRT). 
You can also hop on a bus that can take you to Orchard, Bishan and even Pasir Ris.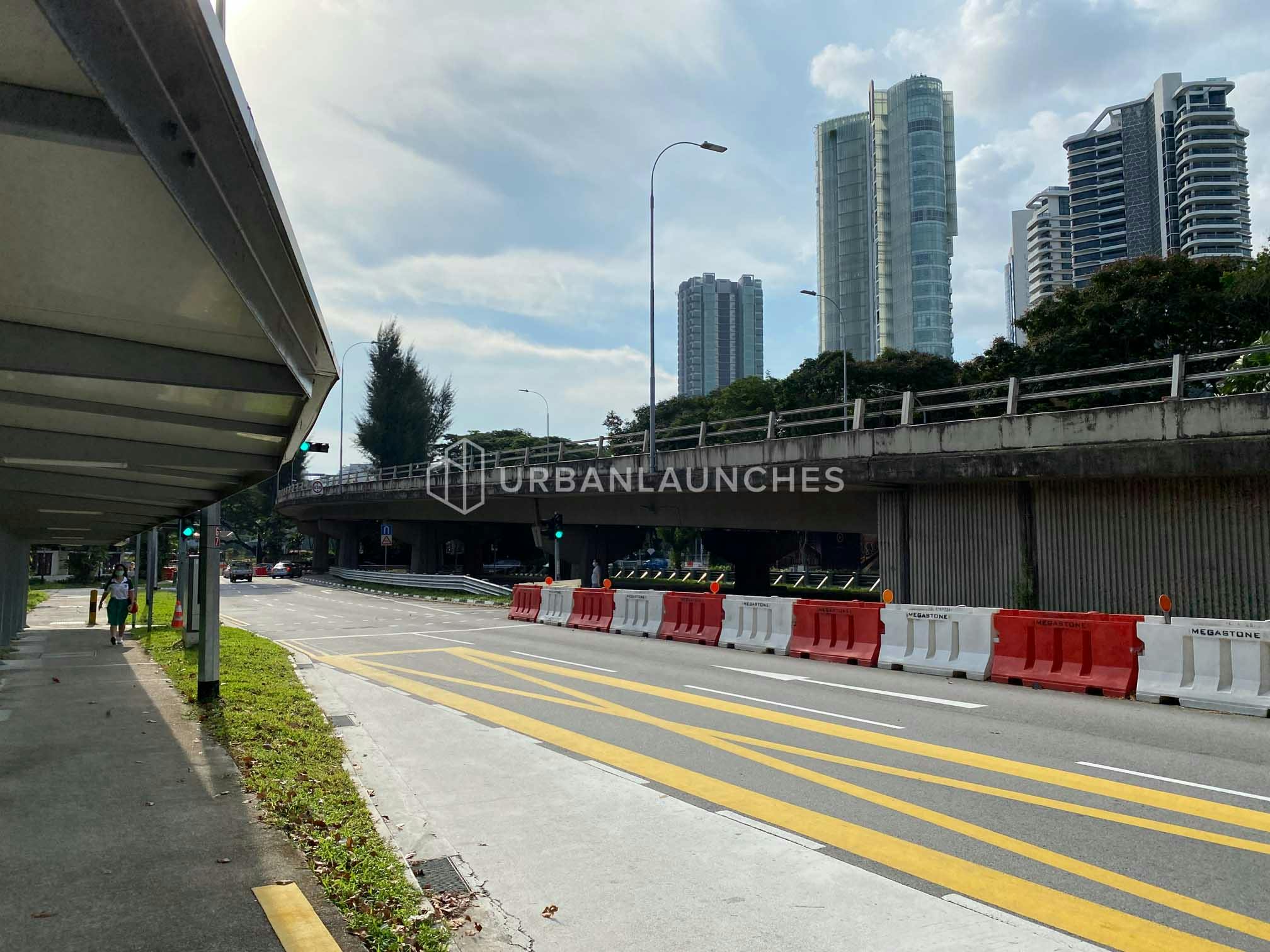 Proximity To Singapore's Best 
Kopar At Newton's prime location gives parents the easy option of sending their children to prestigious schools like Anglo-Chinese School, Catholic JC, Singapore Chinese Girl's School and St. Joseph's Institution. 
If getting access to the best medical specialists is one of your priorities, you'd be happy to know that Kopar At Newton is within close proximity to Novena Health City, Mount Elizabeth Hospital, Gleneagles Hospital and KK Women's and Children's Hospital.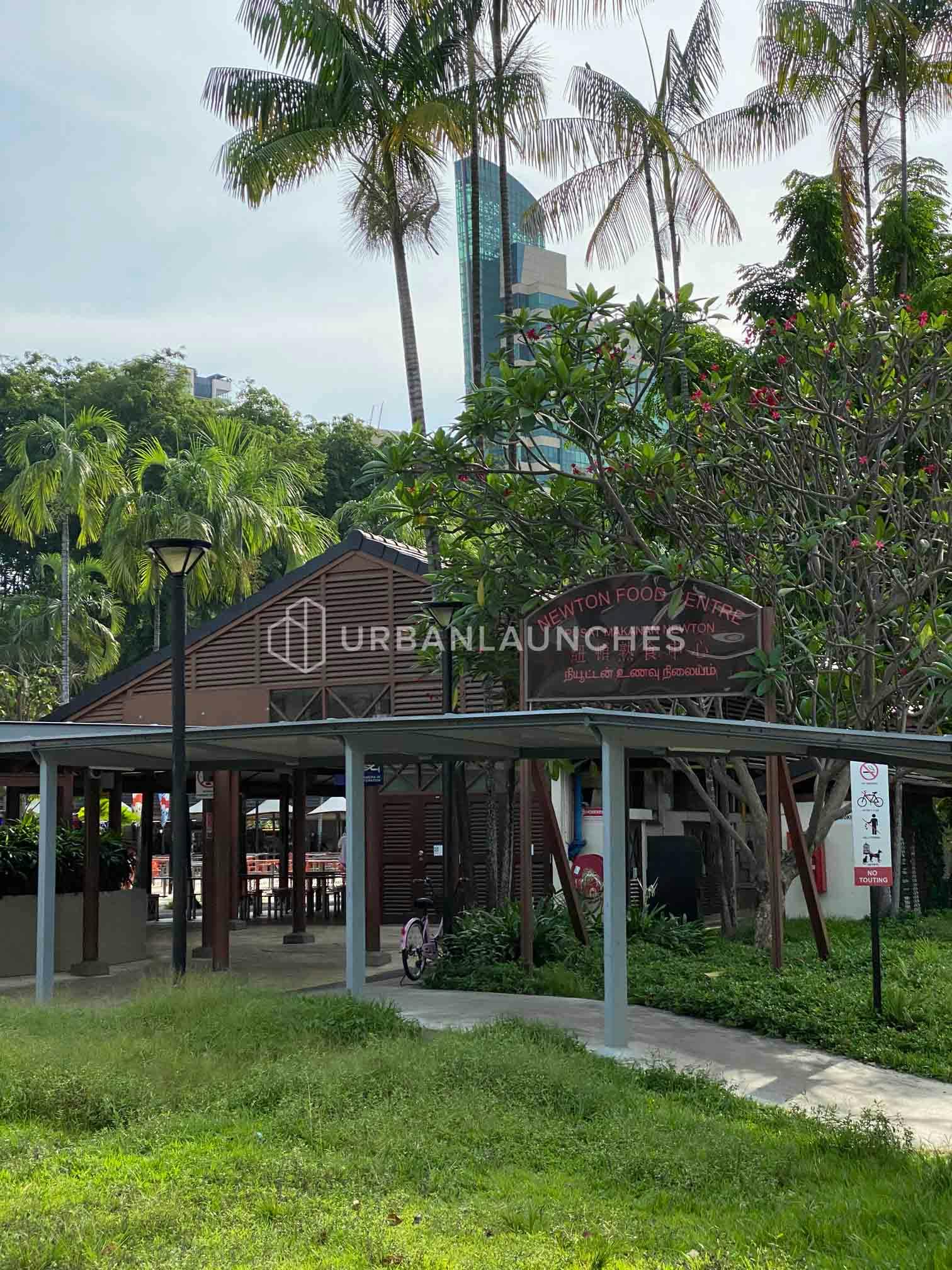 Lastly, if shopping and dining is at the top of your list, Kopar At Newton is just a stop away to Orchard Road, where Singapore's shopping culture truly comes alive. Looking for groceries? Head down to United Square Shopping Mall for some fresh produce, and don't forget to grab a cuppa while you're at it!
Final Verdict
An icon in the making, Kopar At Newton is a rare opportunity to own a home in one of Singapore's most coveted address. Whether as an investment or own stay, there is no denying that the development's hyper-connectivity to prestigious schools, medical specialists and shopping hotspots hints at a strong potential for high rental yields and long term price appreciation.
Ready to view the showflat for yourself? Call us at +65 8811 1181 or claim a FREE Grab ride at your convenience!